The TLC is an active group of AAEA members interested in the theory, scholarship and practice of learning, teaching, and communication. Given that a large majority of AAEA members have responsibilities in these three areas, the TLC's activities are developed to enhance members' skills in the on-campus classroom, off-campus workshop, and in a presentation to a community group. Activities include:
Pre-conference workshops on teaching strategies, learning styles, and teaching technologies and innovations.
Track sessions where practitioners share their knowledge, frustrations, and successes.
Annual meetings that facilitate idea exchange and dialogue.
Networking opportunities for scholarly collaboration.
TLC's programs are designed for undergraduate, graduate, and life-long learning environments. The TLC encourages AAEA members to transform their interest in teaching into a passion for excellence in pedagogy.
Case Study Scholarship Webinar
Thank you to everyone to joined us for the joint AEM/TLC Section webinar on case study scholarship. Webinar recordings and presenter slides are all available here: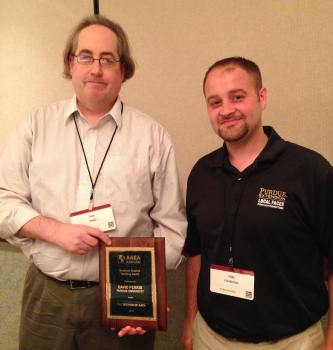 2014 Graduate Student Teaching Award Winner David Perkis (left) receiving his award from TLC Section Past-Chair Michael Gunderson (right).
Graduate Student Teaching Award
As graduate students are our teachers of tomorrow the TLC has chosen to sponsor this award to recognize and encourage graduate students who excel in teaching agricultural or applied economics courses.
Nominations may be submitted by any member(s) of the AAEA and selection is made on the basis of nominating materials. Re-nominations are encouraged, providing materials are updated and resubmitted. Graduate Student Teaching Award is a criterion-based award and is reviewed by a committee of TLC members.