Choices Magazine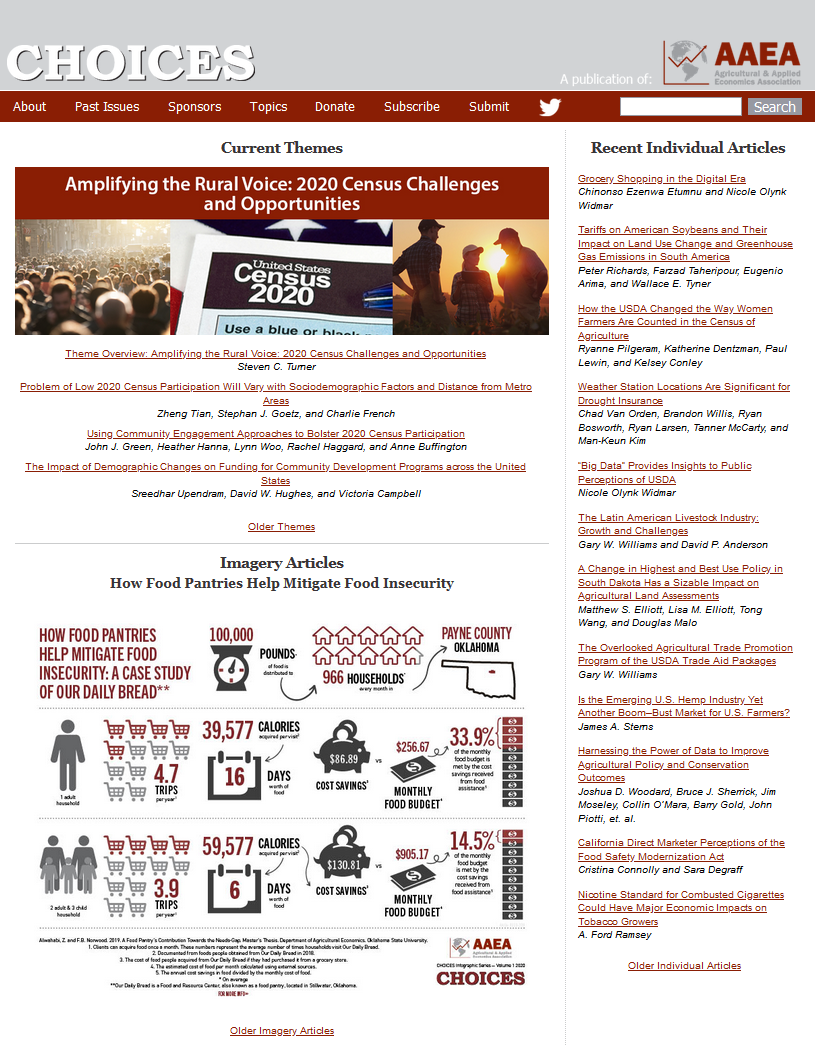 Choices is the principal outreach vehicle of AAEA. Choices provides current coverage on economic implications of food, farm, resource or rural community issues directed toward a broad audience. Articles are peer reviewed. Choices is a free, online-only publication.
Choices publishes thematic groupings of papers and individual papers. The topics repeatedly visited in Choices are agriculture and trade, resources and the environment, consumers and markets, agribusiness and finance, and rural community issues. All manuscripts are subject to peer review for publication consideration.
---
Choices Award Winning Articles
---
Submitting to Choices
You can learn more about submitting to Choices by reading the Submission Instructions. If you have any questions about the type of manuscripts suitable for publication in Choices, please contact the Editor.
---
Editor
Alison Davis, University of Kenntucky
Maria Marshall, Purdue University
Technical Editor
Amy Bekkerman, Precision Edits
Choices Editorial Council
Ariel Dinar, University of California, Riverside
Jennifer Ifft, Cornell University
James Sterns, Oregon State University
Russell Tronstad, University of Arizona
Ben Campbell, University of Georgia
Olga Isengildina-Massa, Virginia Tech
Brandon McFadden, University of Delaware
Hayk Khachatryan, University of Florida
Keri Jacobs, Iowa State University
Amanda Countryman, Colorado State University
Mykel Taylor, Kansas State University
Cole Ehmke, University of Wyoming
Editorial Communications
All individual and opinion articles should be submitted using the online system at: https://choices.expressacademic.org/login.php. Thematic proposals and questions/comments should be emailed to the co-editors: Maria Marshall (mimarsha@purdue.edu) and Alison Davis (Alison.Davis@uky.edu). Please review the Submission Guidelines before submitting an article for publication consideration.