Journal of the Agricultural & Applied Economics Association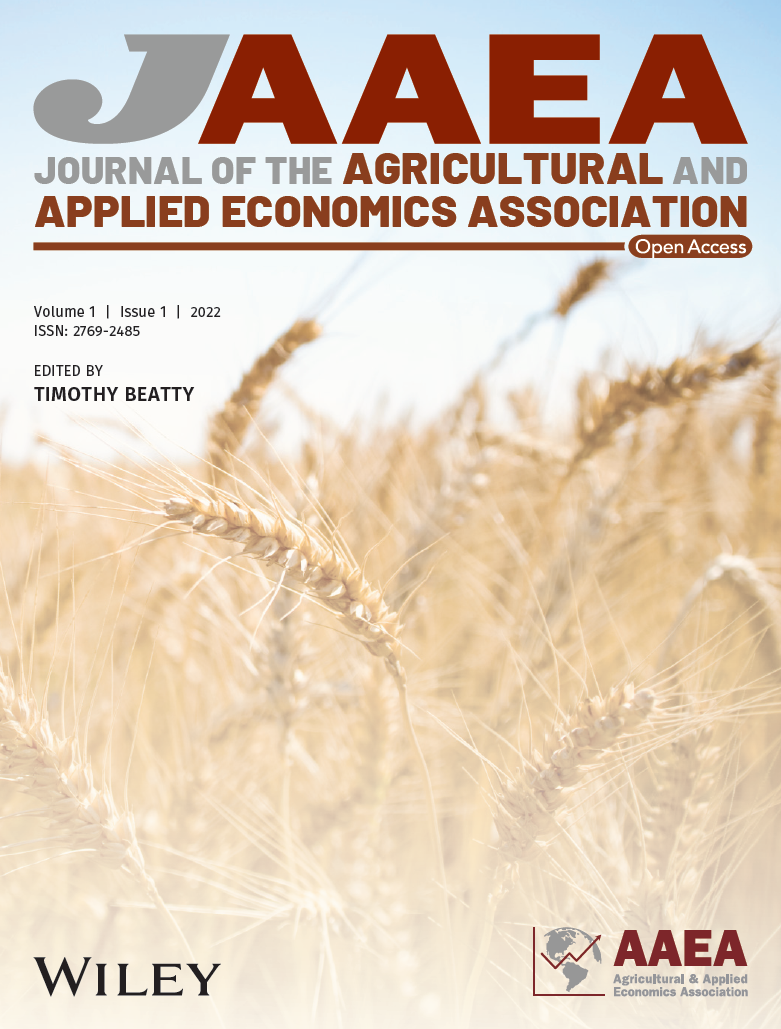 Journal of the Agricultural and Applied Economics Association (JAAEA) is an Open Access journal from AAEA in partnership with Wiley. JAAEA publishes peer-reviewed research of the high quality readers expect from AJAE and AEPP, expanded to cover a broad range of topics in agricultural and applied economics. JAAEA is author-friendly, offering quick review and publication times, free format submission, and a sound-science approach to peer review.
As an open access journal, JAAEA seeks to be author- and reader-friendly with quick review and publication times, free format submissions, and a sound-science approach to peer-review that is focused on technical correctness rather than the perceived importance of a topic. JAAEA embraces a shorter article format (under 6,000 words) to convey key insights as effectively as possible. The journal offers a 20% discount off the Article Publication Charge (APC) for AAEA members. Members can sign into their "My Account" to see the discount code.
JAAEA will publish high-quality, peer-reviewed research in a broad range of areas, including Agribusiness, Agricultural Finance, Agricultural Policy, Behavioral and Experimental Economics, Development Economics, Environmental Economics, Extension Economics, Food, Nutrition, and Health, Regional, Replications, and Natural Resource Economics. The journal will also consider topic areas with a specific geographic focus, such as China or Africa. Topic coverage will evolve with the discipline as topics grow or decline.
---
Founding Editor
Timothy Beatty, University of California, Davis
tbeatty@ucdavis.edu
Area Editors
Metin Cakir, University of Minnesota
Shon Ferguson, Swedish University of Agricultural Sciences
Robert Finger, ETH Zurich
Sathya Gopalakrishnan, The Ohio State University
Nathan Hendricks, Kansas State University
Berna Karali, University of Georgia
Maria Marshall, Purdue University
Hope Michelson, University of Illinois, Urbana-Champaign
Tina Saitone, University of California, Davis
Satoru Shimokawa, Waseda University
Ellen Van Loo, Wageningen University
Production Editor
Neeraj Dhyani, Wiley Publishing
jaa2@wiley.com