The Exchange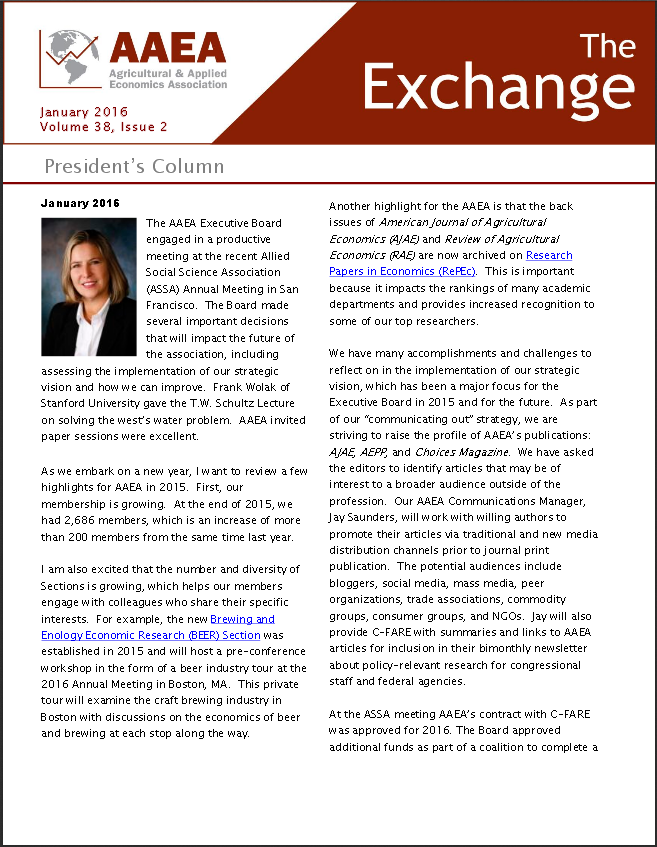 The Exchange is a bi-weekly, electronic newsletter published by AAEA for its members. Each issue includes information about the association, including upcoming events, activities, calls for submissions, and updates on the work of AAEA. It also has updates from other organizations and news from our members' departments
Current AAEA Members can read the latest issue of The Exchange online. Past issues are available on the Newsletter Archives page.
AAEA members may change their notification preference for The Exchange at any time. Log in to the My Account section. If you do not wish to receive emails from The Exchange, check the box for 'Exclude from Newsletter Email'.
Submitting to The Exchange
Please send all items to be included in The Exchange to info@aaea.org.
People Section Submissions:
We are happy to include announcements regarding your organization. Include the information requested below for the particular category. Please follow the structure provided in order to facilitate the publication process.
New Appointments: Name, new position
(New Appointments: John Smith, Professor)

Appointment Changes: Name, new position
(Appointment Changes: Jane Doe, Assistant Professor)

Awards: Name, awarding institution, award
(Awards: Jack Brown, AAEA, Outstanding Member Award 2016)

Positions Taken by Recent Graduates: Name, degree, position, institution
(Positions Taken by Recent Graduates: Robert Ramirez, PhD, Director of Communications, AAEA)

Honorary Positions: Name, honorary position, institution, duration if applicable
(Honorary Positions: Sarah Palmer, Guest Lecturer, AAEA, January 2016-June 2016)

Returns from Leave: Name
(Returns from Leave: Brian Williamson)

Leaves: Name, location, duration
(Leaves: Barrett Baker, AAEA, June 2016-September 2017)

Retirements: Name, years of service
(Retirements: Steven Cohen, 34 Years of Service)

Resignations: Name
(Resignations: Allison van Dipplemen)

Visitors: Name, home position, home institution, visiting position, duration
(Visitors: Anna Rosati, Professor, AAEA, Guest Lecturer, 2015-2016)
News and Other Stories:
We will print submitted news items and other stories based on space availability and relevancy to the association. If applicable please submit any headshots, logos, or promotional photos that may augment your story. (Please note that fellowships and other announcements with a stipend or salary will be considered employment ads and charged accordingly.)
Past Issues of The Exchange
Past issues of The Exchange are available online for current AAEA Members only. You can find these issues on the Newsletter Archives page.