The American Journal of Agricultural Economics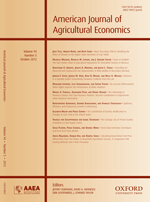 The American Journal of Agricultural Economics (AJAE) provides a forum for creative and scholarly work on the economics of agriculture and food, natural resources and the environment, and rural and community development throughout the world. Papers should demonstrate originality and innovation in analysis, method, or application. Analyses of problems pertinent to research and extension are equally encouraged, as is interdisciplinary research with a significant economic component. The AJAE seeks to publish a body of research that is diverse in method and authorship, and that addresses discrimination and inequity in its subjects of study or within the discipline itself.
Find out more about the AJAE on the publisher's website.
Member access to AJAE articles on Wiley
Step 1 - Log into "My Account" on the AAEA website
Step 2 - Select "Publications" Drop down
Step 3 - Select American Journal of Agricultural Economics (AJAE)
Step 4 - Use search bar to find desired article