The American Journal of Agricultural Economics
Access AJAE articles on Wiley
Step 1 - Log into "My Account" on the AAEA website
Step 2 - Select "Publications" Drop down
Step 3 - Select American Journal of Agricultural Economics (AJAE)
Step 4 - Use search bar to find desired article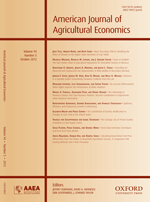 The research and policy conversation starts at the American Journal of Agricultural Economics.
AJAE provides a forum for creative and scholarly work on the economics of agriculture and food, natural resources and the environment, and rural and community development throughout the world.
AJAE is the top journal in the agricultural economics field according to studies reported by Kalaitzidakis, Mamuneas & Stengos (Canadian Journal of Economics, 2011), Kodrzycki and Yu (B.E. Journals in Economic Analysis and Policy, 2003), and Ritzberger (German Economic Review, 2008).
In 2012, 4,462 total citations make AJAE the most cited agricultural economics and policy journal and the 20th most highly cited journal among all economics titles
41% of citations to journals in the field of agricultural economics and policy were to AJAE
Among an expanded set of journals that also include key environmental and resource titles, AJAE held a 14% market share of 2012 citations
>10.0 cited half life indicates the longevity and relevance of articles published in AJAE
AJAE (ISSN 0002-9092) will be published five times each year and is printed by Wiley. From 2014 there will be no page charges for publishing in AJAE. For more information on how to submit a paper visit the AJAE Website on Wiley:
---
AJAE Award Winning Papers:
---
Electronic Access to AJAE
AAEA members receive free electronic access to AJAE through the My Account section. Non-members can learn more about the journal including how to subscribe to it through the Wiley website. Electronic access through Wiley includes archives of the journal through 1919.
---
AJAE Editors
Amy Ando (2020-2024)
University of Illinois at Urbana-Champaign
amyando@illinois.edu
Marc Bellemare (2020-2024)
University of Minnesota
mbellema@umn.edu
Jill McCluskey (2022-2026)
Washington State University
mccluskey@wsu.edu
Jesse Tack (2022-2026)
Kansas State University
jtack@ksu.edu