Applied Economic Perspectives and Policy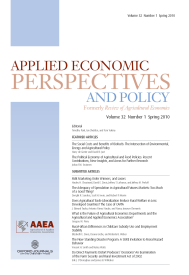 Applied Economic Perspectives and Policy aims to present high-quality research in a forum that is informative to a broad audience of agricultural and applied economists, including those both inside and outside academia, and those who are not specialists in the subject matter of the articles. You can learn more about the types of articles AEPP publishes by reading the AEPP Talking Points.
AEPP also provides a free interview podcast with each published issue, keeping you in touch with the latest research on your computer or on the go. All of the podcast episodes can be listened to within your web browser and/or available for download.
---
AEPP Award Winning Papers:
---
Submitting to AEPP
You can learn more about submitting to AEPP by reading the Submitted Articles Instructions. If you have any questions about the type of manuscripts suitable for publication in AEPP, please contact Managing Editor Craig Gundersen.
---
Electronic Access to
AEPP
AAEA members receive free electronic access to AEPP through the My Account section. Non-members can learn more about the journal including how to subscribe to it through the Oxford University Press website. Electronic access through Oxford University Press includes archives of the journal through 1988.
---
AEPP Editors
Managing Editor
Craig Gundersen (2017-2022)
University of Illinois at Urbana-Champaign
cggunder@illinois.edu
Submitted Article Editors
Daniel Petrolia (2018-2021)
Mississippi State University
d.petrolia@msstate.edu
Christopher McIntosh (2017-2020)
University of Idaho
mcintosh@uidaho.edu