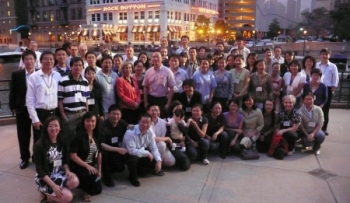 China Section preparation meeting at the 2009 AAEA & ACCI Joint Annual Meeting, which was held in Milwaukee, Wisconsin.
About the China Section
The China Section is intended to facilitate collaboration among AAEA members and other professionals on agricultural and applied economic issues related to China; to disseminate information and to mentor junior AAEA members with an interest in this area; and to serve as a bridge between AAEA and other professional organizations with a China focus worldwide.
Membership
China Section membership is open to current members of the Agricultural & Applied Economics Association (AAEA). Members may join the China Section concurrently with AAEA, or join China Section only if already a member of AAEA. Membership in China Section is $10 per year for professional members and $5 per year for student members.
You can learn more about joining AAEA by visiting the AAEA membership page. If you are already a member of AAEA and would like to join the China Section, you can do so by completing this form (PDF) or logging in to the My Account section and completing the Online Section Form.