Mission and Vision
The Applied Risk Analysis Section of the AAEA is established in 2008 with the purpose to disseminate information and facilitate interaction among those in our profession interested in the following topics: production risk, market risk, financial risk, consumer risk, risk theory, risk analysis methods, and risk transfer. Agricultural and applied economists are regularly asked to assess or model risks, interpret consumer and producer behavior in the presence of risk, and examine the efficacy of risk management strategies. This section is focused on disseminating information and organizing sessions and Pre- and Post-conference Workshops which further the sharing of information among those interested in risk analysis and management issues.
2018 Best Graduate Student Paper Award
The 2018 award for the Best Graduate Student Paper was presented to the winner:
Bart Niyibizi for the article entitled "Using Bayesian Kriging for Spatial Smoothing of Trends in the Means and Variances of Crop Yield Densities", coauthored by Bart Niyibizi, Wade Brorsen, and Eunchun Park.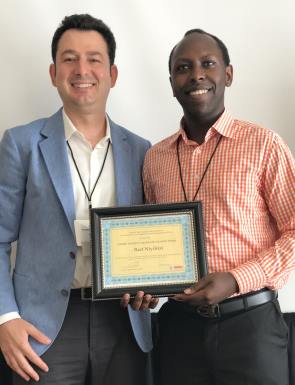 Applied Risk Analysis section outgoing chair, Harun Bulut, presents Bart Niyibizi with the 2018 award for the Best Graduate Student Paper Award.
Outstanding Contribution to Applied Risk Analysis
The 2018 award for Outstanding Contribution to Applied Risk Analysis was given to
Joshua D. Woodard and Leslie J. Verteramo-Chiu for their article entitled "Efficiency Impacts of Utilizing Soil Data in the Pricing of the Federal Crop Insurance Program." American Journal of Agricultural Economics (2017) 99(3): 757–772.
For more information about the upcoming Section activities please check out the latest Section Newsletter at Section Activities page.
Membership
ARA membership is open to current members of the Agricultural & Applied Economics Association (AAEA). Members may join ARA concurrently with AAEA, or join the Section only if already a member of AAEA. Membership in ARA is free to students and $10 per year for other members of the AAEA.

You can learn more about joining AAEA by visiting the AAEA membership page. If you are already a member of AAEA and would like to join the Applied Risk Analysis Section, you can do so by completing this form (PDF) or logging in to the My Account section and completing the Online Section Form.
.