January 2023, Issue 1
AAEA Deadlines

January 17, 2023

February 8, 2023
AAEA News
The 2023 AAEA Fellows Class will receive their award at the 2023 AAEA Annual Meeting in Washington, D.C. In alphabetical order. The class is as follows:

Marc Bellemare,
University of Minnesota



Keith Fuglie,
USDA-Economic Research Service


Elena Irwin,
The Ohio State University


David Pannell,
University of Western Australia



Dawn Thilmany,
Colorado State University



Holly Wang,
Purdue University
Open Calls for the 2023 AAEA Annual Meeting in Washington, D.C.
January 17
February 8
People Section
University of California, Davis
University of Illinois at Urbana-Champaign
University of Nebraska-Lincoln
Texas A&M University
West Virginia University
Other News
Workshop in "Survey Design & Experimental Methods in Applied and Agricultural Economics"
https://fab-lab.wpcarey.asu.edu/international-school
The workshop will cover theoretical and practical knowledge regarding surveys and experimental methods. In addition, delegates will be familiarized with state-of-the-art software, and will design their own practice experiment through hands-on training.
---
AAEA is releasing "Members in the News" emails to the membership. If you find a State, National or International stories about an AAEA Member, please send a link of the story to Austin Sparbel at asparbel@aaea.org or info@aaea.org.
What research and topics are you working on? Want to be an expert source for journalists working on a story? We want to hear from you. Contact Allison Ware in the AAEA Business Office via email, aware@aaea.org.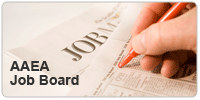 Sign up for listserv emails regarding
new positions HERE.
Anti-Harassment and Code of Conduct Policy
AAEA is committed to the fair, ethical treatment of all of its members and all other individuals participating in AAEA activities or activities connected with, or related to, AAEA activities, while providing an atmosphere that promotes a variety of research, teaching and extension/outreach activities. The AAEA has zero tolerance for, and prohibits any type of, discrimination or harassment, including sexual harassment, within the organization, at professional meetings, in the field, or anywhere professional activities are conducted under the aegis of the AAEA. View the Policy.