October 2023, Issue 20
AAEA Deadlines

October 5, 2023

Organized Symposium: Climate-Smart Markets and Practices on U.S. Livestock Farms

October 4, 2023

2024 AAEA Fellows Nominations

October 16, 2023

AAEA Trust Call for Proposals
AERA India Mentorship Program Applications
Grano Scholarship Award Applications
Lane Mentor Fellowship Applications
Lele Mentor Fellowship Applications
Lele Mentor Fellowship for Women Applications
McCorkle Scholarship Applications

November 30, 2023

Pre & Post-conference Workshops

December 3, 2023

Track Sessions
Case Studies
Invited Papers

December 31, 2023

January 14, 2024

Selected Presentations: Papers and Posters
Organized Symposia










AAEA News
Open Calls
October 4, 2023
October 16, 2023
November 30, 2023
December 3, 2023
January 14, 2024
SAS Webinar: How to Fight Hunger & Food Insecurity (and How Not to)
South Asia's success in rapidly transitioning from massive food deficits to food surpluses and significant improvements in food security provides important lessons on the pathways towards getting to the SDG goal of zero-hunger. The historic focus on smallholder productivity growth and the consequent rise in incomes has long been seen as a blueprint for agriculture as an engine of economic growth and rural transformation. However, the unilateral strategy of increasing the "pile of grain" has resulted in substantial environmental and societal costs and climate related consequences. Staple grain fundamentalist agricultural policy has hampered food system diversity and slowed the fight against malnutrition. A reboot of food and agricultural policies that promote healthy, equitable and sustainable food systems are an urgent priority. We welcome you to join the South Asia Section of AAEA webinar with guest speaker Dr. Prabhu Pingali from Cornell University.
When: Wednesday, October 25, 9:00am—10:00am Eastern
Agenda: 40 minutes for presentation and 20 minutes for Q&A
Speaker: Dr. Prabhu Pingali, Professor & Director, Tata-Cornell Institute, Cornell University
Register now: https://us06web.zoom.us/meeting/register/tZIqfuChqz0oGdWaKhMBFdHCtefgG-8lkTcW
Free Virtual 2023 AAEA Annual Meeting Session
| | | | | |
| --- | --- | --- | --- | --- |
| Session # | Session Title | Date | Time | Link |
| 3519 | Climate-Smart Markets and Practices on U.S. Livestock Farms | October 5 | 11:00 am - 12:30 pm Central | Zoom Link |
Special Issue: Artificial Intelligence and Data Analytics Use in the Classroom and Academy
Applied Economics and Teaching Resources is calling for manuscripts about use of artificial intelligence (AI) and data analytics in undergraduate and graduate education in the classroom and across the academy. Submissions of case studies, teaching and extension scholarship and research, educational innovations and methods, extension education innovations and methods, and commentaries about use of artificial intelligence, including use of large language models (LLMs) and platforms, such as ChatGPT, Bing AI, Bard, amongst other, and data analytics in undergraduate and graduate education, extension education, and other learning venues in institutions of higher learning. This special issue is open to a wide array of topics related to artificial intelligence and data analytics across the agricultural and applied economics and agribusiness and management economics disciplines. Topics may include but are not limited to innovative use of AI and data analytics in the classroom; innovative data analytic teaching modules and teaching case studies; teaching case studies about the impact of AI on agriculture, the agricultural industry and society; ethical and academic concerning the use of AI in the academy; assessments of AI for different learning outcomes and tasks; and use of AI and data analytics in extension education programming.
Read more>>
Government Relations & Washington Update
October 2023
Congress Passes CR, Averts Shutdown
On September 30th, the House of Representatives was able to pass a short-term continuing resolution to avoid a government shutdown and fund the government through November 17th. This will enable key USDA agencies such as ERS and NIFA to continue operations without disruption. The measure does not include funding for Ukraine but does provide $16 billion for disaster relief. The bill also extends the authority of programs that were set to expire including: Federal Aviation Administration, Animal drug user fees, Community health centers and pandemic preparedness authorities and the National Flood Insurance Program.
Read more>>
Other News
SAVE THE DATE! 2024 NAREA Annual Meeting and Workshop
The 2024 NAREA Annual Meeting and Workshop will be in June 9, 2024 - June 12, 2024 in Rehoboth Beach, Delaware.
Conference and Workshop Hotel Information:
Atlantic Sands Hotel and Conference Center
1 Baltimore Ave at the Boardwalk,
Rehoboth Beach, DE 19971
Conference: Sunday, 9 June 2024 - Tuesday 11 June 2024
Workshop: Tuesday, 11 June 2024 - Wednesday, 12 June 2024
2024 Workshop Topic: Measuring and Enhancing Resilience of United States Rural Communities in the Context of Climate Variability
68th Annual Conference of the Australasian Agricultural & Resource Economics Society
Date: February 6-9, 2024
Venue: Australian National University Campus, Canberra, Australia
Description: Theme: Grand Challenges at the Frontier of Applied Economics
The Australasian Agricultural and Resource Economics Society (AARES) is the pre-eminent organisation promoting applied economics research and policy engagement in agricultural and resources industries including, agribusiness, food systems, and the environment. Our journal, the Australian Journal of Agricultural and Resource Economics (AJARE) publishes original, high-quality, and interdisciplinary research and policy analysis pertaining to agriculture, the environment and natural resources.
Read more>>
---
AAEA is releasing "Members in the News" emails to the membership. If you find a State, National or International stories about an AAEA Member, please send a link of the story to Austin Sparbel at asparbel@aaea.org or info@aaea.org.
What research and topics are you working on? Want to be an expert source for journalists working on a story? We want to hear from you. Contact Allison Ware in the AAEA Business Office via email, aware@aaea.org.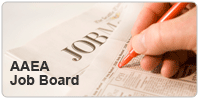 Sign up for listserv emails regarding
new positions HERE.
Anti-Harassment and Code of Conduct Policy
AAEA is committed to the fair, ethical treatment of all of its members and all other individuals participating in AAEA activities or activities connected with, or related to, AAEA activities, while providing an atmosphere that promotes a variety of research, teaching and extension/outreach activities. The AAEA has zero tolerance for, and prohibits any type of, discrimination or harassment, including sexual harassment, within the organization, at professional meetings, in the field, or anywhere professional activities are conducted under the aegis of the AAEA. View the Policy.