AAEA News
Invited Speaker Jordan LeBel Kicks Off Symposium in Montreal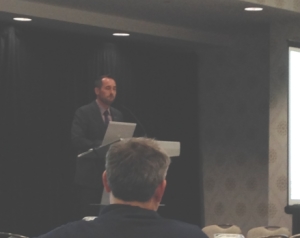 Local Montreal invited speaker, Jordan LeBel kicked off the program at the Social Networks, Social Media and the Economics of Food Symposium with his presentation titled "Fun, Fame and Tweets: How Social Media is Shaping Food Preferences and Eating Behaviour." LeBel is the Director at the Luc Beauregard Centre of Excellence in Communications Research and an Associate Professor of Marketing at Concordia University. The focus of LeBel's presentation was how social media influences consumer's food choices on a daily basis. Social Media is a growing tool that companies are using to reach, influence and listen to their consumers. Thank you Jordan for the inspirational presentation!
The final program is available online for more information about the symposium and speakers. The Social Networks, Social Media and the Economics of Food Symposium is being held in Montreal from May 29-30.
Register for the 2014 Employment Center
Registration is now open for the 2014 Employment Center taking place July 27-29, during the 2014 AAEA Annual Meeting in Minneapolis, MN. The Employment Center offers a great opportunity for highly qualified candidates to connect with a number of employers during the Annual Meeting. This year's Employment Center features a simplified registration and posting process that is now integrated into the newly updated AAEA Job Board. Applicant registration is FREE.
For more information please visit the online Employment Center. If you have any questions please feel free to contact Sarah Kenner. We hope to see you in Minneapolis!
Call for Hosts: LI-LMI Pre-Conference Workshop at Annual Meeting
Earlier this year, the AAEA Trust Committee awarded six economists from low income and lower middle income (LI-LMI) countries full travel grants to attend and present their research at the 2014 AAEA Annual Meeting in Minneapolis.
AAEA would like to pair each of the grant recipients with a host who will be attending the meeting to encourage networking, communication, and collaboration among a more diverse pool of professionals. The main role of the host is to attend a Pre-Conference workshop on Saturday, July 26 and help the delegate prepare for the presentation of their research in a Selected Presentation session.
Our hope is that some of the travel grant winners and their hosts will apply for the Uma Lele Mentor Fellowship program which provides funding for a mentorship relationship between an AAEA member and an economist from a low income and lower-middle income country. Eugenie Maïga, from the African Center for Economic Transformation (ACET) in Ghana, was a LI-LMI grant recipient last year and won the Uma Lele Fellowship this year. The ultimate goal for this workshop is to create vibrant, long-lasting networks of scholars working on current and newly emerging challenges to economic development in these regions.
If you are interested in participating or would like to nominate someone, please contact Angela Ludwig (aludwig@aaea.org) at the AAEA Business Office.
Winners of the 2014 Travel Grant for Economists from Low Income or Lower-Middle Income Countries
Opeyemi Ayinde, from the University of Ilorin in Ilorin, Nigeria, will be presenting her paper "Analysis of Supply Response and Price Risk on Rice Production in Nigeria"
Alaba Modupe Dare, from the Federal University of Agriculture in Abeokuta, Nigeria, will be presenting her paper "Rural Households' Access, Willingness to Pay (WTP) and Factors Influencing WTP for Safe Water and Sanitation in Southwest Nigeria"
Taiwo Ejiola Mafimisebi, from Federal University of Technology in Akure, Nigeria, will be presenting his paper "Responsiveness of Spatial Price Volatility to Increased Government Participation in Maize Grain and Maize Meal Marketing in Zambia"
Assa Maganga, from Agriculture and Natural Resources Management Consortium (ANAMARC) in Lilongwe, Malawi, will be presenting his paper "A Food Demand System Estimation for Rural Malawi: Estimates Using Third Integrated Household Survey Data"
Sendhil Ramadas, from the Directorate of Wheat Research in Haryana, India, will be presenting his paper "Performance and Relevance of Wheat Futures Market in India - An Exploratory Analysis"
Rajib Sutradhar, from the Jawaharlal Nehru University in New Delhi, India, will be presenting his paper "Procurement of Fresh Produce by Modern Marketing Channels and their Impact on Farming Household-Evidence from India"
C-FARE
DC Update
FY 2015 Appropriation Bills – Agriculture
Today, May 29, the House Appropriations Committee (Chairman Rogers, R-Ky.) will mark up the fiscal 2015 Agriculture Appropriations bill. The current legislation would provide $20.9 billion in discretionary spending for the USDA, FDA, and CFTC—about even with fiscal 2014 levels. Debate is expected to center around bill language that would delay compliance with school nutrition rules for lunches and school lunch purchasing provisions. The current bill includes $85.8 million for ERS; $169.4 million for NASS; and $325 million for NIFA's AFRI. Coverage/Related: C-FARE Twitter; COPAFs Report; ASA's Science Policy Blog
FY 2015 Appropriation Bills - Commerce, Justice, and Science
Also today, the House of Representatives are debating and voting on amendments to the House Commerce, Justice, and Science FY 15 Appropriations Bill (HR 4660). An open rule, gave lawmakers the freedom to introduce any relevant amendments. The committee passed version of the bill would provide $51.2 billion in funding for the Commerce and Justice Departments, and science programs. Several amendments offered by House Members to the proposed bill included cuts to the Census, NSF's Directorate for Social, Behavioral and Economic Sciences (SBE), and the Economic Development Administration. Senate appropriators will begin moving their version of the bill at a subcommittee markup next Tuesday, with the full committee to follow on June 5. Coverage: C-FARE Twitter; AAAS' Matt Hourihan; National Humanities Alliance; COSSA
Authorization Bills - NSF Reauthorization Advanced by House Subcommittee, May 28, 6 PM ET
The House Science, Space and Technology Subcommittee advanced a two-year reauthorization of federal science programs (HR 4186) yesterday. Frontiers in Innovation, Research, Science, and Technology Act of 2014 (also known as the FIRST Act), includes authorization for the National Science Foundation (NSF) the National Institute of Standards and Technology (NIST) and the Office of Science and Technology Policy. Congress last reauthorized the programs in 2010 (PL 111-358); a measure which expired last year. The adopted (20-16) bill would reauthorize $8 billion for the programs in the current fiscal year and $8.1 billion in fiscal 2015. Within the amended bill is an adopted amendment (20-15) by Representative Dana Rohrabacher, R-Calif. that would decrease the authorization for the NSF's Social, Behavioral and Economics Directorate by $50 million. Source: CQ's David Michaels
---
Congratulations to the 2014 C-FARE Leadership Award Recipients!
The Council on Food, Agricultural and Resource Economics (C-FARE), with support from the Agricultural & Applied Economics Association (AAEA) Trust, announces the C-FARE/AAEA Early Career Professionals Leadership Award recipients. The award recipients will participate in a two-day program in Washington, DC, June 19-20, 2014. The program will expose the young leaders to federal funding opportunities and train them to be exceptional science policy communicators. This award is an opportunity for AAEA members to enhance their careers through networking and outreach. C-FARE had an outstanding group of applicants for 2014.
Congratulations:
Lisa Elliott, South Dakota State University
Kelly Grogan, University of Florida
Nathan Hendricks, Kansas State University
Tyler Mark, University of Kentucky
Juan Sesmero, Purdue University
Thank you to all who took the time to apply.
---
Educational Programming-Past Events
Jon Brandt Public Policy Forum on 'Big Data' Web Archive Available
C-FARE hosted the 1st Annual Jon Brandt Policy Forum – "Increasing U.S. Agriculture's Competitive Edge: How Do Public Data and Big Data Fit?" –in Washington, DC on April 29. The event was covered by agricultural press and non-profit organizations, as well as attended by congressional staff and DC stakeholders.
Media/stakeholder coverage:
C-FARE thanks the co-sponsors for their support of the inaugural event:
In-kind was provided by:
---
On Thursday, May 8, 2014, the C-FARE Blue Ribbon Expert Panel on Energy co-sponsored the congressional briefing: "Detours on the Road to Sustainable Feedstock Production for Cellulosic Biofuel: Assessing Multidimensional Policy Approaches". Event summary: High yielding energy crops, such as miscanthus and switchgrass, have been considered sustainable feedstocks for cellulosic biofuel production in the United States because of their potential to be grown on marginal lands and provide environmental benefits to soil and water quality. However, production of these feedstocks may expose farmers to several types of risk, due to volatility in yields and prices. Existing policies do not fully address the liquidity constraints and may worsen the variability in income over the life-span of these crops. Our research examines the design of an actuarially fair crop insurance for energy crops that reduce the riskiness of production. It also assesses the effectiveness of three policy instruments, a crop insurance subsidy, an establishment cost share and a biomass price subsidy, in promoting energy crop production. The implications of these policies for the geographical distribution of energy crop acreage will be discussed.
Speaker: Dr. Madhu Khanna, Department of Agricultural and Consumer Economics at the University of Illinois at Urbana-Champaign. Dr. Khanna's slides are available here. Dr. Khanna and C-FARE Executive Director, Caron Gala also met with staff members working for her congressional delegation and the Senate Energy and Natural Resources Committee.
Choices Magazine Issue on the Economic and Policy Analysis of Advanced Biofuels: The current theme presents economic and policy analysis on advanced biofuels. Its aim is to explain the various costs and benefits associated with the expansion and commercialization of advanced biofuels and their co-products.
---
On Monday, May 19, 2014, the C-FARE Blue Ribbon Expert Panel on Development co-sponsored the congressional briefing: "Shifting Winds in International Agricultural Development: What's Behind Africa's Turnaround?" Event summary: Over the past decade, many African countries have reversed their earlier economic decline and achieved some of the world's fastest rates of economic growth and job creation. This turnaround is associated with slow-moving trends in rural demography and agricultural productivity that lifted economic prospects in Asia from the 1980s, leaving Africa as the world's poorest continent since the 1990s. Those winds have now shifted, creating economic opportunities in African agriculture and the prospect of rapid improvement in food security, nutrition and health. Today's seminar discusses recent evidence on the speed and timing of rural development in Africa and other regions, and what these trends mean for US foreign assistance and agricultural development policy. See photos here.
Moderator: George W Norton, Professor in the Department of Agricultural & Applied Economics at Virginia Tech (Chairman of the C-FARE Blue Ribbon Expert Panel on Development)
Speaker: William A. Masters, Professor and Chair of the Department of Food and Nutrition Policy at the Friedman School of Nutrition, Tufts University (Panel Member)
Drs. Norton and Masters, and C-FARE Executive Director, Caron Gala also met with staff members working for relevant congressional committees as well as Dr. Sonny Ramaswamy, the Director of the National Institute of Food and Agriculture, and Robbin Shoemaker, National Program Leader in the NIFA Division of Agricultural Systems.
---
Opportunities
Competitive Grant to Establish a USDA Center for Behavioral and Experimental Agri-Environmental Policy Research: ERS invites proposals for a competitive grant to establish and fund a USDA Center for Behavioral and Experimental Agri-Environmental Policy Research that will use behavioral and experimental economics to conduct research on how policies and programs can influence the provision of ecosystem services from agricultural lands. The deadline for submission of applications is 11:59 p.m., July 7, 2014.
USDA NIFA Integrated Research, Education, and Extension Competitive Grants Program — National Integrated Water Quality Program (NIWQP): The (abridged) priorities for FY 14 are: Priority 1: drought severity, reduction, and preparedness. Indicators or triggers are used to determine drought aid and eligibility. Applicants must develop the science behind the most appropriate drought triggers and provide an understanding of the connection between trigger levels and drought management responses or decisions. This priority seeks the development of a trigger or triggers and appropriate science based management decisions, practices and/or responses with broad applicability across the states and territories of the U.S. Priority 2: To aid decision making so as to optimize the allocation of water use between productive and environmental uses. Optimal use of water would simultaneously consider the nexus of the environment, ecosystem services and the demands of associated urbanizing lands and agriculture. The goal of this priority area is to provide estimates of the economic value of water across different uses. Economic valuation depends not only on quantity but other competing demands such as quality, location, reliability of access, and time of availability. Quantifying the value of water will provide valuable signals to agricultural producers, rural communities and policy makers to aid decision-making for allocating agricultural water use across consumptive or non-consumptive uses. Deadline: July 3, 2014.
NSF Experimental Program to Stimulate Competitive Research (EPSCoR)
The Experimental Program to Stimulate Competitive Research (EPSCoR) is designed to fulfill the mandate of the National Science Foundation (NSF) to promote scientific progress nationwide. A jurisdiction is eligible to participate in EPSCoR programs if its level of NSF research support is equal to or less than 0.75 percent of the total NSF research and related activities budget for the most recent three year period (see eligibility table). Through this program, NSF establishes partnerships with government, higher education, and industry that are designed to effect sustainable improvements in a jurisdiction's research infrastructure, Research and Development (R&D) capacity, and hence, its R&D competitiveness. Research Infrastructure Improvement Track-1: (RII Track-1) awards provide up to $4 million per year for up to 5 years to support physical, human, and cyber infrastructure improvements in research areas selected by the jurisdiction's EPSCoR steering committee as having the best potential to improve future R&D competitiveness of the jurisdiction. Letter of intent deadline: July 8, 2014.
NSF Seeking to Fill EPSCoR Program Director Position
The office is looking to fill one position in March, 2014 and the second in August, 2014. The EPSCoR program is directed at those jurisdictions that have historically received lesser amounts of NSF Research and Development (R&D) funding. Twenty-eight states, the Commonwealth of Puerto Rico, Guam, and the U.S. Virgin Islands currently participate. Through this program, NSF establishes partnerships with government, higher education and industry that are designed to effect lasting improvements in a region/jurisdiction's research infrastructure, R&D capacity and hence, its national R&D competitiveness. More information about EPSCoR programs can be found here.
The Council on Food, Agricultural and Resource Economics (C-FARE)
C-FARE is a non-profit organization dedicated to strengthening the national presence of the agricultural economics profession. C-FARE's governing board includes prominent agricultural economists representing a wide range of public and private sector interests. Support C-FARE by donating to the AAEA Trust, selecting the C-FARE option.
900 Second Street, NE Suite 205 Washington, DC 20002
www.cfare.org
Follow C-FARE on Facebook and Twitter!
Mobile App is Back
AAEA is excited to bring back the mobile app for its second year. The mobile app has many great features including:
My Schedule - add sessions and events right onto your personal schedule.
Sessions – browse the entire program by day or by track; add events to your schedule and rate sessions.
Session Participants - view session participants including presenters, moderators, panelists, and more.
Exhibitors – view exhibitor profiles
Maps – navigate your way around the meeting with floor plans highlighting rooms used during the meeting
Social Media – connect via Facebook or LinkedIn. On Twitter, follow @AAEA_Economics and share your meeting experience using #aaea2014.
Friends - meet and connect with other Annual Meeting attendees.
Enhance your Annual Meeting experience by searching for "AAEA2014" in your app store to download the mobile app on your smartphone or tablet!