May 2014
Issue 10
AAEA Trust Profile: Christiane Schroeter
AAEA Trust Profile is a new bi-monthly series following up with AAEA Trust sponsored scholarship, fellowship and grant winners. This issue features Christiane Schroeter, Associate Professor in the Agribusiness Department at the California Polytechnic State University, San Luis Obispo. Christiane won the Sylvia Lane Mentor Fellowship in 2008. The Lane Mentor Fellowship provides an opportunity for young female scholars working on food, agricultural, or resource issues to collaborate with an established expert at another university, institution, or firm.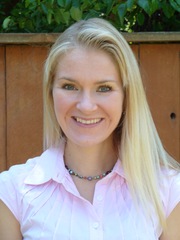 How did winning the Sylvia Lane Mentor Fellowship help accomplish your research?
The 2008 Sylvia Lane Mentor Fellowship started a research relationship that has been active for the past six years. The Fellowship allowed me to collect student data about dietary and health knowledge, and food culture at the University of Florida and Arkansas State University. We conducted electronic surveys using professional software, which allowed us to obtain a 24-hour recall of students' dietary intake. Without the fellowship, this research would not have been possible because it provided us the resources to purchase this software. The research findings were submitted to the Agribusiness & Food World Forum of the International Food and Agribusiness Management Association, where it was selected for the Best Paper Award competition. Our manuscript was also published in the International Food and Agribusiness Management Review. I successfully applied for additional grant funding, which supported one M.S. and one B.S. student's research projects. Based on this additional data collection at Cal Poly San Luis Obispo, I oversaw one senior project and one Master's thesis. These student projects were presented at the 2009 IAMA meetings in Monterey, CA. Read More>>
Note: The Exchange is now distributed bi-weekly. The People Section will continue to be bi-monthly and is scheduled to next appear in July. Click here to view the most recent People Section from Issue 8.