Obituary
Dr. Jerry Eckert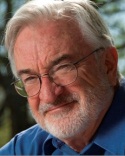 Jerry Eckert was an Emeritus Professor at Colorado State University (CSU), where he taught and conducted research in the Department of Agricultural and Resource Economics from 1972-2005. As an academic, he wrote nearly 200 articles and professional papers, two of which won Best Published Article awards. In addition to his academic pursuits, Jerry worked on many international projects, ultimately living more than 20 years in South Asia and Southern Africa. His work redirected agricultural and labor policies in Pakistan and Lesotho, and contributed to food grain self-sufficiency in Pakistan and The Gambia. In South Africa, where he worked at the University of Cape Town, the Development Bank of Southern Africa, and the University of Stellenbosch, his research and writing spurred the Apartheid government to accelerate change by creating a more inclusive middle class. He developed the framework for an interracial dialogue on rights in South Africa leading, ultimately, to a new Bill of Rights in 1997. Following the first open elections in South Africa in 1994, Jerry helped to develop an economic growth strategy for the incoming Mandela government.
At CSU, he also served as DARE Faculty Council representative for several years and later as Associate Director of Society of Senior Scholars, promoting the involvement of retired faculty in the broader CSU community. Following his retirement in 2005, Jerry immersed himself in his twin passions of hiking and nonfiction writing. Jerry's early nonfiction celebrated the natural world, especially wildlife, in American and Pakistani outdoor magazines. His literary nonfiction has appeared in Pilgrimage, Matter, The Superstition Review, Weber: The Contemporary West, Memoir Journal, Ruminate, and elsewhere. "Mahlapane's Story," first published in The Superstition Review, won the Northern Colorado Writers 2011 essay competition. His soon-to-be published Memoir entitled "Weeping Kings and Wild Boars: Moments of Magic and Sorrow from Forty Years of Trying to Save the World" recently won the 1st place award in the Northern Colorado Writers Top of the Mountain Book Award.
Jerry and his wife, Betty, divided their time between Fort Collins, Colorado and Vail, Arizona, hiking the central Rockies in the summer and the southern Rockies in winter. He is survived by his wife, Betty, their four children, Erin Eckert, Traci Cooley, Scott Eckert, and Todd Doss, 7 grandchildren and two sisters. He will be missed enormously.