Obituary
Lowell S. Hardin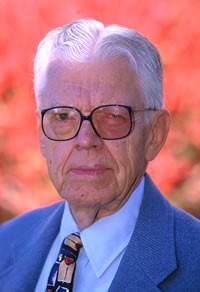 Lowell S. Hardin, 97, died peacefully on April 28 at his home in West Lafayette, Indiana.
Lowell was known as "an international farmer" who made major, long-lasting contributions to agriculture around the globe. A born leader, Lowell's sharp intelligence, resolve, and boundless energy were matched in equal measures by his compassion, his clear-eyed desire to make the world a better place, and his pragmatic, yet unceasingly optimistic, world view.
Lowell's friends knew him as someone who could always be counted on for help; he never shrank from a challenge, whether personal or professional, and he credited his Quaker background for his consensus-building skills. Lowell also was a mentor to numerous students and academic colleagues whose own work will continue his impact on international agriculture. Lowell's family, meanwhile, knew him as a loving and conscientious son, brother, spouse, father and grandfather. His unstinting care of his wife Mary in the final years before her death in 2011 was a testament to Lowell's dedication, faith and courage.
When asked not long ago what makes life worth living, Lowell wrote, "The ability to make meaningful contributions that are supportive to others are a source of satisfaction to me. One of my greatest joys is in the successes of others who in some small way I've been able to help."
Born November. 16, 1917 on a general livestock farm near Knightstown, Indiana, Lowell was the oldest of the three children of J. Fred Hardin and Mildred Stewart Hardin. In 1939, Lowell earned a BSA from Purdue University, where he was managing editor of the daily student newspaper, The Exponent, among other extracurricular activities. A year later, he married his Purdue sweetheart, Mary Cooley of West Lafayette. Lowell earned his Ph.D. in agricultural economics from Cornell University in 1943 and returned to teach at Purdue, becoming head of the Agricultural Economics department in 1953. He and Mary were the proud parents of three children: Tom, born in; Joy, born in 1947; and Peter, born in 1952.
In 1965, Lowell was offered the chance of a lifetime -- a position as the senior agriculturalist at the Ford Foundation in New York City. Lowell spent the next 17 years traveling around the world, often with Mary at his side, as he helped develop a network of agricultural research centers from the Philippines to Peru to help increase food production and reduce hunger in third world countries. As Lowell noted in a 1998 newspaper article, his farming background proved invaluable: "I had no language skills, but I could talk to a farmer. You'd get out your jackknife, you'd dig into the soil, and you'd look at the plants. You were communicating!"
Lowell and Mary moved back to West Lafayette in 1981, and Lowell became the Assistant Director of International Programs in Agriculture at Purdue, a position he held until 2007. That same year, he became a Purdue emeritus professor. Other honors that Lowell earned during his life included Sagamore of the Wabash, a Purdue honorary doctorate, and induction into the university's Book of Great Teachers. He served on numerous boards of trustees, including Federated Church and the Westminster Village Foundation.
Throughout his final years, Lowell maintained a keen interest in the latest developments in international agriculture as he mentored new generations of scientists and economists. He also was a devoted grandparent, who took special delight in the educational attainments of his grandchildren.
Lowell is survived by his brother, Russell Hardin of Lebanon, Indiana; his sister, Helen Townsend (husband Wayne Townsend) of West Lafayette, Indiana; as well as his three children, Thomas S. Hardin of New Haven, Connecticut; Joy Hardin (husband Jim Elferdink) of McKinleyville, California; and Peter Hardin (wife Karen MacPherson) of Takoma Park, Maryland. He leaves four grandchildren: Katie and Jeff Hardin of Connecticut, and Sally and Tim Hardin of Maryland.
A memorial service was held on Saturday, May 2, 2015 at Federated Church.
In lieu of flowers, memorial contributions may be given to, Purdue Foundation/Lowell & Mary Hardin Endowment for Agricultural Study Abroad, Westminster Village Foundation or charity of choice.