November 2019, Issue 23
December 3, 2019

January 15, 2020

Kansas City, MO
Fun Fact Friday

November 1, 2019
The maximum distance from Kansas City to anywhere in the contiguous U.S. is approximately 1,900 miles, or half the distance from coast to coast.

November 8, 2019
Fun Fact Friday: Kansas City is the only major city located within 250 miles of both the geographic and population centers of the nation.

Catch all of the #FunFactFriday on Twitter and Facebook.

AAEA News

Editor's Corner
October 2019

Travis J. Lybbert, AJAE Editor
In my time as AJAE editor over the past four years, an interesting crisis for our profession – and, indeed, for the wider social sciences. The replication crisis and associated crisis of confidence in empirical analysis reflect concerns about how research is conducted and published, including researcher degrees of freedom, p-hacking, the "garden of forking paths," and the file drawer problem. The crisis hit close to home for the AAEA with our own "pizzagate" and, in its wake, 17 retractions and the high profile resignation of Brian Wansink from Cornell University.
Read more>>

2020 Invited Paper Sessions
Call for Proposals

AAEA welcomes proposals for Invited Paper sessions for the 2020 AAEA Annual Meeting in Kansas City, MO. Papers in these Invited Paper sessions may be published in the Applied Economics Perspectives and Policy (AEPP) in March 2021, subject to review. Proposals from individuals or groups need to be submitted using the online submission system by Tuesday, December 3, 2019. Submit proposals in the online Abstract Management System.
Read more>>

2020 Selected Presentation Papers & Posters
Call for Abstracts

AAEA seeks submissions for Selected Presentations for the 2020 AAEA Annual Meeting in Kansas City, MO. Selected Presentations are a submission category that represents both Selected Papers and Selected Posters. All submissions are reviewed and accepted together, and only after acceptance are the submissions designated as a paper or poster. At the time of submission, individuals will have the option for their submission to be considered as a poster only. There is no paper only option. Abstracts must be received by Wednesday, January 15, 2020 and should be submitted using AAEA's online Abstract Management System.
Read more>>

2020 Track Sessions sponsored by AAEA Sections
Call for Proposals

The AAEA Executive Board invites Track Session proposals for the 2020 AAEA Annual Meeting in Kansas City, MO. Initial proposals need to be submitted by Tuesday, December 3, 2019, to Vanessa Nicholas at vnicholas@aaea.org. Final, detailed submissions associated with each session are due by March 11, 2020. The AAEA Business Office will work with each Section that submits proposals on their final submission.
Read more>>

2020 Organized Symposia
Call for Proposals

AAEA seeks submissions for Organized Symposia for the 2020 AAEA Annual Meeting in Kansas City, MO. Proposals are due by Wednesday, January 15, 2020, and should be submitted using AAEA's online submission system. Submit proposals in the online Abstract Management System.
Read more>>

2020 Pre- & Post-conference Workshops
Call for Proposals

The AAEA Executive Board invites proposals for Pre- and Post-conference Workshops at the 2020 AAEA Annual Meeting in Kansas City, MO. The deadline for proposals is Tuesday, December 3. Selections will be finalized at the AAEA Executive Board meeting in early January and organizers will be notified soon thereafter by the AAEA President.
Read more>>

2020 Case Studies
Call for Proposals

AAEA welcomes proposals for Case Studies for the 2020 AAEA Annual Meeting in Kansas City, MO. Cases in this Invited Paper session may be published in the Applied Economics Teaching Resources (AETR) in January 2021, subject to review. Proposals from individuals or groups need to be submitted using AAEA's online submission system by Tuesday, December 3, 2019. Submit proposals in the online Abstract Management System.
Read more>>

Other News

Philippines Agricultural Economics Circle (UP AEC)
Breaking Barriers: Building the Future Through Agricultural and Applied Economics

With the theme "Breaking Barriers: Building the Future Through Agricultural and Applied Economics," the University of the Philippines Agricultural Economics Circle (UP AEC) successfully held its event entitled "Agrikonomiya 2019" last September 28. It is a flagship event of the UP AEC which promotes Agricultural and Applied Economics as a field of study to junior and senior high school students and it also encourages the youth to engage in a timely discussion on the agricultural problems in the Philippines.
Read more>>

Richardson-Applebaum Outstanding Graduate Research
Food Distribution and Marketing Statement of Intent Form

The Fulbright Specialist Program (FSP) is seeking a highly qualified professional to serve as a Specialist for the approximately 2-week project "Automation Processes of the Uses of Natural Resources" to take place in Bogotá, Colombia beginning in Fall 2019 or Spring 2020.
Read more>>

International Food Marketing Research SymposiumCall for Papers

San Antonio, TX, June 17-18,2020
We are now accepting submissions for the International Food Marketing Research Symposiumto be held on June 17-18, 2020 with Texas A&M University, in San Antonio, TX.
Read more>>

6 Congreso Regional de Economía Agraria and IAAE-Inter-Conference Symposium
The Role of the Agribusiness Sector in the Sustainable Development of Latin American Economies

October 7 to 9, 2020 in Montevideo, Uruguay
The Inter-Conference Symposium seeks to provide an expanded regional network for agricultural and applied economists from all over Latin America and beyond focusing on the role of the agribusiness sector in the sustainable development of our rural economies. Providing a platform for discussion, exchange and networking, we are looking to strengthen our profession in the region.
Read more>>

NAPA 2020: Second Biennial NAPA Conference
Call for Abstracts

May 22-24, 2020, Atlanta
The Conference Organizing Committee (COC) is pleased to announce the call for abstracts on the theme "Global Food Security through Agricultural Transformation" for NAPA 2020, second Biennial Conference of the Association of Nepalese Agricultural Professionals of Americas. Abstract submission is open on topics related to Agricultural and Allied Sciences that advance any aspect of NAPA disciplines and ultimately help achieve the secured and sustainable supplies of food, feed, fuel, and fiber (4F) to meet the needs of the current and the next generations without compromising the opportunities of future generations. This call solicits abstracts for oral and poster presentations. Students will have opportunities for oral and poster presentation competitions.
Read more>>

175 EAAE Seminar
Call for papers

The objective of the seminar is to improve the understanding of sustainability standards and their effects on agricultural, food, and bio-based value chains. The seminar focuses on public and private sustainability standards. Both drivers and implications of their emergence are of interest, with emphasis on the economic, governance and policy perspectives. Emphasis is both on theoretical and empirical applications.
Read more>>

2019 International Conference on Agricultural and Food Science

2019 International Conference on Agricultural and Food Science (ICAFS 2019) to be held in Kuala Lumpur, Malaysia during December 8-11, 2019. For more details please visit https://icafs.apaset.org/2019/
Read more>>
---
AAEA is releasing "Members in the News" emails to the membership. If you find a State, National or International stories about an AAEA Member, please send a link of the story to Allison Scheetz via email, ascheetz@aaea.org or info@aaea.org.
What research and topics are you working on? Want to be an expert source for journalists working on a story? We want to hear from you. Contact Allison Scheetz in the AAEA Business Office via email, ascheetz@aaea.org.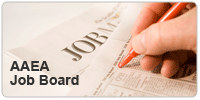 Sign up for listserv emails regarding
new positions HERE.
Anti-Harassment and Code of Conduct Policy
AAEA is committed to the fair, ethical treatment of all of its members and all other individuals participating in AAEA activities or activities connected with, or related to, AAEA activities, while providing an atmosphere that promotes a variety of research, teaching and extension/outreach activities. The AAEA has zero tolerance for, and prohibits any type of, discrimination or harassment, including sexual harassment, within the organization, at professional meetings, in the field, or anywhere professional activities are conducted under the aegis of the AAEA. View the Policy.