July 2018, Issue 15
President's Column

July 2018

AAEA presidents have a three-year term, which maintains leadership continuity. Their roles evolve from planning in the President Elect year, to implementation in the President year, to follow-up and mentoring in the Past President year. The Presidential year culminates with our August meeting. So what has happened this year? This column offers retrospect and prospect, focusing on the new Applied Economics Teaching Resources publication, government relations, mentoring, AAEA journal publisher, and budding initiatives.

AAEA News

Registration Type
ON-SITE
July10 and after
Professional Member
$575
Professional Non-member
$725
Senior Member
$465
Senior Non-member
$585
Graduate Student Member
$180
Graduate Student Non-member
$330
Guest Registration
$55 per guest

2018 AAEA Annual Meeting
On-site Registration

All registrations will need to take place on-site at the Marriott Wardman Park Registration Desk on the Lobby Level.

Already registered but w ant to add a ticketed event? Contact the AAEA Business Office at(414) 918-3190 or email info@aaea.org

Registration Rates and More Information>>

2018 AAEA Annual Meeting
Business Meeting

Monday, August 6, 2018, 8:00 am–8:30 am

AAEA's annual Business Meeting will be held during the annual meeting in Washington, D.C. on Monday, August 6 in Salon 2. This meeting gives members the chance to hear about the state of the association. Updates will be given by the AAEA President, the Finance Committee, and the AAEA Trust Committee. Additionally, Board members and Editors who are completing their terms will be recognized for their service. Lastly, those in attendance will be given an opportunity to voice any questions or concerns that they may have. We hope you'll join us in Washington, D.C.
Review last year's Business meeting on YouTube>>

Renew Your AAEA Membership for 2018

You can renew your AAEA membership for 2018 on the AAEA website. Simply log in to the "My Account" section to renew. Completing your renewal online saves you time by filling out most of the information for you automatically.

The benefits of your AAEA membership only last through the spring of 2018, so be sure to renew soon to ensure that you keep receiving services from AAEA throughout the upcoming year.

2018 AAEA Annual Meeting
Employment Center

Registration is now open for the 2018 Employment Center taking place August 5-7, during the 2018 AAEA Annual Meeting in Washington, D.C.

For more information, please visit the online Employment Center. If you have any questions please feel free to contact Sarah Kenner. We hope to see you in D.C.!

2018 AAEA Annual Meeting
Working with the Media Session

During the 2018 Working with the Media session, AAEA members are encouraged to share their research with a new audience. Members will have a chance to openly speak to media personnel to discuss their hesitancy with participating in interviews. There will also be a few AAEA members who are well versed at being the expert for media interview requests.

Panelists
AAEA Expert Members
Washington, D.C. Media Personnel
Keith Coble
Mississippi State University
Incoming President-Elect
Caitlin Dewey
The Washington Post
Marc Bellemare
University of Minnesota
Incoming Board of Directors

Ellyn Ferguson
CQ Roll Call


Interested in getting started with communicating to a broader audience or want to get advice from experts in the field, this is a session you won't want to miss.

Session Information:

(subject to change)
Tuesday, August 7, 2018
11:45 am - 12:45 pm
Room: Maryland A

If you have any questions please contact Allison Scheetz, AAEA Senior Communications Manager at ascheetz@aaea.org.

2018 AAEA Annual Meeting:
Board for International Food and Agricultural Development Public Meeting

The Board for International Food and Agricultural Development (BIFAD) and USAID are pleased to invite Agricultural & Applied Economics Association members and other interested individuals to engage in a dialogue and provide feedback on a new study that is being commissioned by BIFAD and USAID. This study will analyze US benefits and capabilities leveraged from strategic USAID investments in developing country agriculture and food security.
Madison A&B on the Mezzanine Level in Marriott Wardman Park Hotel
or via Livestream
August 8, 2018, 9:00 am to Noon EDT
Read more>>

2018 AAEA Annual Meeting Post-conference Workshop:
Science Communications and Media Engagement

Workshop Description: AAEA has engaged the American Association for the Advancement of Science (AAAS) Center for Public Engagement with Science and Technology to conduct a communications workshop for our members. This four hour workshop will be divided into two parts. The first part, termed Science Communication Fundamentals, focuses on the core components of successful public engagement. Participants are introduced to the AAAS public engagement framework, a guide they can apply to all kinds of interactions. Participants also learn how to identify a public engagement goal, determine the relevant audience, craft tailored messages to achieve their goal and rehearse their engagement scenario. This workshop includes both facilitator presentations and attendee exercises.

August 8, 2018
Marriott Wardman Park
Room: Wilson A, B, & C
8:30 am – 12:30 pm
Read more about all Pre- and Post-conference Workshops>>

2018 AAEA Annual Meeting
Pre-conference Workshop: Towards Engagement and Collaboration of 1890, 1862, Federal and Private Institutions: A Win-Win for the Agricultural Economics & Agribusiness Professions

The purpose of this workshop is assess engagement and collaboration, and to explore strategies to enable collaborative linkages to address institutional, funding, and operational gaps between the 1890 and 1862 land grants, and other institutions in agricultural economics research, teaching, and extension. Discussions on how to promote collaboration and engagement have been ongoing between COSBAE members at the three entities (1890, 1862 and federal institutions) given the under-representation of minorities in graduate Agricultural Economics programs, academia, and other research professions.
9:00 am – 3:00 pm
$40
*Offsite Workshop at Economic Research Service (ERS)
Agenda
Travel Grant opportunity below
Read more>>

2018 AAEA Annual Meeting:
Undergraduate Student Section Activities

On behalf of the Undergraduate Student Section of the Agricultural & Applied Economics Association, we cordially invite you and your students to attend and participate in the 2018 AAEA Annual Meeting in Washington, D.C., August 5- 7. Our section offers a wide variety of professional development opportunities for undergraduate students of agricultural and applied economics:

Academic Bowl Competition
Student Paper Competition
Earl O. Heady Decision Sciences Spreadsheet Competition
Outstanding Chapter Competition
Creative Club Competition

CREDO Breakfast Meeting
at #AAEADC18

The Catholic Research Economists Discussion Organization (CREDO) is an international society of hundreds of economists, including agricultural economists, who are interested in the conversation between the Catholic faith and economic research as it applies to the economy, the Church, and broader society. (See https://credo-economists.org/ for more information.) This year, we are hosting the first meeting of this group at the AAEA meetings at a breakfast on Monday, August 6, 2018, from 9:00 am-10:30 am at a restaurant that has yet to be determined. The meeting and breakfast are preceded by an 8:00 am mass at St. Thomas Apostle Catholic Church, 2665 Woodley Rd., which is a short walk from the Washington Marriott Wardman Park. All are welcome at the breakfast meeting and mass. Please RSVP as soon as possible to Craig Gundersen (cggunder@illinois.edu ), so we can get an estimate on the number of attendees for the breakfast. In addition, please contact Craig with any questions, comments, etc., you may have.

Obituaries

Robert W. Taylor
1935-2018

Robert W. Taylor, 83, resident of Lafayette passed away Tuesday, July 3, 2018 at home. He was born February 5, 1935 and grew up in Lawtons, NY, on Dancote Farm raising Angus beef. Bob graduated from Cornell University in 1956. On June 2, 1956 he married Anna B. Cady in Troupsburg, NY. They relocated to West Lafayette, IN, where he completed his MS and Ph.D. in Agricultural Economics from Purdue University. Bob joined Purdue faculty as a Farm Management Professor in the Agricultural Economics Department. His passion and concern for students was legendary, and he continued teaching and mentoring for 50 years at Purdue.
Read more>>

Larry Johnathan Held
1949-2018

Dr. Larry J. Held, Professor Emeritus in the Department of Agricultural and Applied Economics at the University of Wyoming, and long-time member of both the AAEA and WAEA, passed away on June 28, 2018 after battling a long illness. Larry was born on September 19, 1949 in Devils Lake, North Dakota and grew up on his family farm near Rock Lake, North Dakota.

Larry's passion for production agriculture led him to pursue and obtain both his B.S. and M.S. in Agricultural Economics at North Dakota State University. Larry accepted an assistantship to pursue his doctoral work with Dr. Glenn Helmers at the University of Nebraska-Lincoln after receiving his M.S. in 1973.
Read more>>

Other News

2018 International Conference on Agricultural and Food Science
Instanbul, Turkey

AAEA Members receive a 15% discount on Registration

2018 International Conference on Agricultural and Food Science (ICAFS 2018) in Istanbul, Turkey on October 28-30, 2018. (>>General Information). The conference is co-organized by Asia-Pacific Association of Science, Engineering and Technology, Bahri Dağdaş International Agricultural Research Institute and Celal Bayar University.
Read more>>

Animal Law and Policy Small Grants Program at UCLA Law

Thanks to generous funding from Bob Barker, UCLA Law School is pleased to offer the Animal Law and Policy Small Grants Program ("UCLA ALP Program"). The UCLA ALP Program exists to encourage new research, with the goal of developing better empirical bases from which to understand, evaluate, and pursue animal law reform. Applicants from a variety of academic disciplines - including economics, sociology, demography, social psychology, moral psychology, medicine, plant-based nutritional science, cognitive science, law, public health, and public policy - are encouraged to apply. The UCLA ALP Program has two goals:

Fostering sound empirical - quantitative or qualitative - knowledge related to human uses of animals, alternatives to uses of animals, and humans' relationship to animals, which animal law and policy academics and practitioners could use to develop animal law and policy reform applications.

Supporting empirical research that enables animal law and policy academics and practitioners to develop increasingly more sophisticated understandings of the impact of public policies and laws that affect animals directly or indirectly. Read more here: https://law.ucla.edu/centers/social-policy/animal-law-grants-program/about/ For questions, please contact the UCLA ALP Program through email: alp@law.ucla.edu.

Transportation Research Board Agricultural and Food Transportation Committee
Call for Papers

Papers for the January 2019 Annual Meeting must be submitted electronically no later than August 1, 2018. Paper submission information is posted on the TRB website at: http://www.trb.org/AnnualMeeting/ResourcePages.aspx
Read more>>

2018 FDRS Student Food Marketing Challenge
Call for Participation

The 2018 Annual Meeting of the Food Distribution Research Society will be held at the Crystal Gateway Marriott Arlington, Virginia, from September 14th – September 18th 2018. The conference will be held in conjunction with United States Department of Agriculture, Farm Credit, Farmers Market Coalition, and National Value-Added Conference under the umbrella of the "2018 Direct Agricultural Marketing Summit."
Read more>>
---
AAEA is releasing "Members in the News" emails to the membership.
If you find a State, National or International stories about an AAEA Member, please send a link of the story to
Sinais Alvarado via email, salvarado@aaea.org or info@aaea.org.
What research and topics are you working on? Want to be an expert source for journalists working on a story? We want to hear from you. Contact Allison Scheetz in the AAEA Business Office via email, ascheetz@aaea.org.
Communication out to the Public: https://youtu.be/aXke3BHM5qU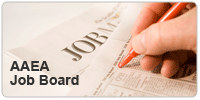 Sign up for listserv emails regarding
new positions HERE.