May 2022, Issue 10
AAEA Deadlines

May 25, 2022
AAEA News
2022 AAEA Annual Meeting
Anaheim, CA
We look forward to seeing everyone at the 2022 AAEA Annual Meeting, which will take place from July 31-August 2 at the Marriott Anaheim in Anaheim, CA.
Registration for the 2022 AAEA Annual Meeting is open! Please contact the AAEA Business Office at info@aaea.org or (414) 918-3190 with any questions.
Read more>>
2022 Travel Grants
These grants defray housing and transportation costs associated with attending the 2022 AAEA Annual Meeting in Anaheim CA, July 31 - August 2, 2022. The amount of the travel grant awarded will depend on the number of applications received. There are Travel Grants for both International and Domestic travel.
The AAEA Trust is now accepting applications for Travel Grants to the 2022 AAEA Annual Meeting in Anaheim, CA. Deadline for applications is May 25, 2022.
Register for the 2022 Employment Center
Registration is now open for the 2022 Employment Center taking place Monday, August 1, during the 2022 AAEA Annual Meeting in Anaheim, CA. The Employment Center offers a great opportunity for highly qualified candidates to connect with a number of employers during the Joint Annual Meeting. This year's Employment Center features a simplified registration and posting process that is integrated into the AAEA Job Board. Applicant registration is FREE.
For more information, please visit the online Employment Center. If you have any questions please feel free to contact Samantha Bilgrien. We hope to see you in Anaheim!
Call for submissions: AAEA invited paper sessions at the 2023 ASSA Annual Meeting
President-Elect Norbert Wilson is soliciting proposals and suggestions for AAEA invited paper sessions at the 2023 Allied Social Sciences Association (ASSA) Annual Meeting in New Orleans, LA, January 6-8, 2023.
The objective of AAEA sessions at the ASSA Annual Meeting is to share new knowledge of interest to economists. The AAEA encourages sessions that will draw widely from ASSA attendees, including sessions jointly sponsored with other ASSA member associations.
Read more>>
Upcoming Workshop: Using Scanner Data for Food Economics Research
Resources and Approaches for New and Advanced Researchers
Dates: August 3-4, 2022 (immediately following the AAEA meetings)
Location: Hilton Hotel, Anaheim, CA with the option to attend virtually
GSS & C-FARE 2022 Policy Communications Competition
In today's market, graduate students may seek careers where they are tasked with evaluating policy issues and effectively communicating their results to policymakers and other stakeholders. Therefore, the Graduate Student Section (GSS) and Council on Food, Agricultural & Resource Economics (C-FARE) partner for the 2nd Annual Policy Communications Competition. This competition provides graduate students with an opportunity to gain experience in both written and verbal policy communication.
Read more>>
2022 AEM-GSS Case Study Competition
The Agribusiness Economics and Management (AEM) – Graduate Student Section (GSS) Case Study Competition allows graduate students to test their communication skills and their ability to apply their knowledge of agricultural economics and agribusiness to practical situations.
Read more>>
AETR General Call for Papers
Applied Economics Teaching Resources (AETR) is putting out a general call for papers for innovations in teaching and Extension education. Over the past two years, higher education has a seen dramatic shifts in teaching and extension, which has resulted in significant innovations in instructional delivery, new methods, new pedagogy and innovations in how we teach and do Extension. AETR seeks manuscript submissions highlighting these innovations and new methods, content, and approaches. Manuscript submissions can include research articles, commentaries, methods and case studies. Please email abstracts of your submission idea to the editor at aetr.editor@gmail.com. The abstract should include a proposed title, up to 500 word abstract for the proposed manuscript, and list of authors. The editor will review abstracts, provide feedback and invite submissions for regular submissions, thematic sections and feature articles on this topic.
Read more>>
Call for Papers
Special Issue, "Contemporary Adjustments Needed to Teaching Water Economics in Light of Challenges Facing the Water Sector and Its Users"
Water Economics has been taught for many decades at undergraduate and graduate levels. Teaching approaches included the traditional profit/utility-maximizing agents' behavior (farmers, households) where individuals decide the allocation of a given amount of water among consuming activities. Main issues such as availability, allocation, pricing, investment, technology, and management of water resources have been at the forefront of the field of water economics. In recent decades, water resources worldwide have seen many transformations both locally and globally, making the challenges facing water-using agents much more complicated and, as a result, higher skills are needed for the tools and methods they employ.
Read more>>
Choices Magazine Call for Articles
Choices Themes, Single Articles, and Data Visualizations
The AAEA welcomes proposals for themes, and data visualizations and individual articles to be published in Choices Magazine.
Choices, a free, online-only publication, is the principal outreach vehicle of the Agricultural & Applied Economics Association (AAEA). Choices articles broadly communicate the results of quality economic analysis applied to issues and challenges faced by public and private sector decision makers in ways that enhance public understanding of and appreciation for the work of agricultural economists.
Read more>>
Government Relations & Washington Update
May 2022
GAO Publishes Study on ERS and NIFA Relocations
On April 21, 2022, the Government Accountability Office (GAO) published a study entitled: "Evidence-Based Policy Making: USDA's Decision to Relocate Research Agencies to Kansas City Was Not Fully Consistent with an Evidence-Based Approach." The study was requested in response the United States Department of Agriculture's (USDA) 2019 relocation of the Economic Research Service and the National Institute of Food and Agriculture—from DC to Kansas City. GAO was asked to assess the analysis USDA used to support its decision to relocate ERS and NIFA to the Kansas City region. This report reviewed how USDA made its relocation decision, the underlying analyses, and the use of evidence in its decision-making.
Read more>>
People Section
Florida A&M University
University of Minnesota
University of Missouri
University of Nebraska-Lincoln
Purdue University
Texas A&M University
Texas Tech University
Other News
Food Distribution Research Society
The Food Distribution Research Society invites submissions of Research Reports, Research Updates, and Outreach Writing for its 2022 Annual Conference. The Annual Conference will be held concurrently with the National Agricultural Marketing Summit in Pensacola, FL from October 22-25, 2022. For more information, please visit the FDRS website: https://www.fdrsinc.org/
CALL FOR PAPERS Agri-Food Systems Transformation:
Sustainability, Resilience, and the Role of Technology
General Statement
IFAMR is actively working with academic associations to provide a joint platform for scholars and practitioners around the world to highlight the latest research advances and solutions to address imminent challenges to the global food and agribusiness system.
Read more>>
---
---
AAEA is releasing "Members in the News" emails to the membership. If you find a State, National or International stories about an AAEA Member, please send a link of the story to Jessica Weister at JWeister@aaea.org or info@aaea.org.
What research and topics are you working on? Want to be an expert source for journalists working on a story? We want to hear from you. Contact Allison Ware in the AAEA Business Office via email, aware@aaea.org.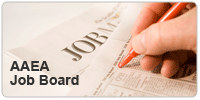 Sign up for listserv emails regarding
new positions HERE.
Anti-Harassment and Code of Conduct Policy
AAEA is committed to the fair, ethical treatment of all of its members and all other individuals participating in AAEA activities or activities connected with, or related to, AAEA activities, while providing an atmosphere that promotes a variety of research, teaching and extension/outreach activities. The AAEA has zero tolerance for, and prohibits any type of, discrimination or harassment, including sexual harassment, within the organization, at professional meetings, in the field, or anywhere professional activities are conducted under the aegis of the AAEA. View the Policy.