Value of Membership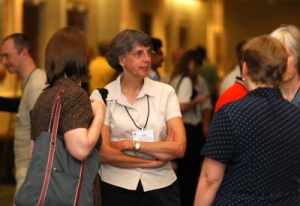 Julie Caswell chatting with fellow attendees at the 2008 AAEA & ACCI Joint Annual Meeting, which was held in Orlando, Florida.
Networking Opportunities
Networking is essential to building a professional reputation.
AAEA membership offers a way to establish professional and personal contacts within the agricultural and applied economics field. AAEA offers specialized sections with interests and opportunities to serve with colleagues on committees.
Members of the Association meet each summer at the AAEA Annual Meeting. The AAEA Annual Meeting attracts over 1,000 agricultural and applied economists from around the world. Other opportunities for involvement are the Allied Social Science Associations (ASSA) Annual Meeting, regional projects and symposia. Members are able to present research, attend general sessions, and network at these events.
Reputation building for most professional economists comes through focused visibility in a target group.
AAEA allows members to make memorable and lasting impressions on fellow economists at meetings. Opportunities to present research findings to peers in sessions during meetings can advance reputations. AAEA gives the opportunity to meet other national and international professionals who can serve as outside reviewers for professional work, successful promotion and tenure cases.
Members are able to propose presentations for meetings and submit manuscripts for publication in AJAE, AEPP and Choices.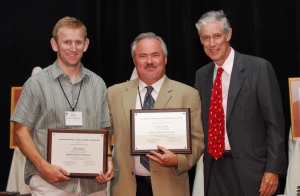 AAEA President Otto Doering presents the Quality of Research Award to AAEA members Aaron Smith and Colin Carter, both of University of California, Davis.
Outstanding Publications
AAEA membership includes electronic subscriptions to:
Professional Recognition
Professional success depends on professional recognition.
AAEA takes pride in recognizing outstanding contributions at the AAEA Annual Meeting. As an AAEA member, you are eligible to win several awards that recognize your work in:
Teaching
Extension
Policy Contribution
Communication
Research Discovery
Publication of Enduring Quality
AAEA offers these awards to honor graduate student research:
Outstanding Master's Thesis
Doctoral Dissertation
AAEA also recognizes a small group of professionals each year who have made outstanding contributions as Fellows of the Association.
Two members discussing a Poster at the 2008 Joint Annual Meeting.
Scholarship and Grant Opportunities
The AAEA Trust has several special purpose funds that support scholarships, mentor fellowships and travel grants. The Trust offers opportunities for members to receive funding for their research and professional development. The AAEA Trust supports programs to:
increase membership
enhance member involvement
stimulate new fields of endeavor for AAEA
Shape the Future
AAEA has adapted over 100 years to serve the needs of its members. Members can shape the future of AAEA by:
electing officers
serving as leaders of sections
participating on committees that determine the content of meetings or the professional achievements honored with awards
Specialized sections organize and develop individual areas of expertise. Service in these capacities contributes to networking and professional reputation.
Join AAEA or Renew Your Membership
Renew Your Membership
If you have previously been a member of AAEA, you can use this form to pay your dues online with a Credit Card, or generate an invoice for your membership.
Join AAEA
You can use this form to join AAEA, if you are new to AAEA. (Current and former members should use the renewal form above.)
PDF Form


You can also download a PDF version of the form and fax or mail it to the AAEA Business Office with payment.