The American Journal of Agricultural Economics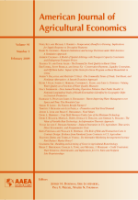 The American Journal of Agricultural Economics provides a forum for creative and scholarly work on the economics of agriculture and food, natural resources and the environment, and rural and community development throughout the world.
Papers should relate to one of these areas, should have a problem orientation, and should demonstrate originality and innovation in analysis, methods, or application. Analyses of problems pertinent to research, extension, and teaching are equally encouraged, as is interdisciplinary research with a significant economic component. Review articles that offer a comprehensive and insightful survey of a relevant subject, consistent with the scope of the Journal as discussed above, will also be considered. All articles published, regardless of their nature, will be held to the same set of scholarly standards.
AJAE (ISSN 0002-9092) will be published in January, March (two issues), August, and October in 2010 and is printed by Oxford University Press.
Electronic Access to AJAE
AAEA members receive free electronic access to AJAE through the My Account section. Non-members can learn more about the journal including how to subscribe to it through the Oxford University Press website. Electronic access through Oxford University Press includes archives of the journal through 1919.