Seattle on Demand Issue 3
Workshops Focus on the Gates Foundation, Public Policy, Extension, and More
If you're interested in diving deeper into a topic in Seattle, check out the workshops taking place before and after the Annual Meeting. These workshops take place on either Saturday, August 11 or Wednesday, August 15 and focus on: the Gates Foundation's efforts to reduce poverty through agriculture, teaching using POGIL, public policy education, using modeling to inform policy decisions, as well as the annual extension tour.
More information about each of the workshops is available on the events by type page. You can register for any of them (for an additional fee) when registering for the 2012 Annual Meeting.
---
Annual Meeting Attendees Get Access to Special Hotel Rates in Seattle
As an attendee of the 2012 Annual Meeting, you'll have access to discounted room rates at three Seattle hotels. AAEA negotiated with these hotels to receive these rates and could possibly face a penalty if attendees choose to make reservations elsewhere. We ask that you please consider booking at one of the following three hotels: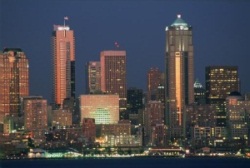 Sheraton Seattle Hotel
Starting at $199 (Government Rate: $139)
Grand Hyatt Seattle
Starting at $199 (Government Rate: $139)
Red Lion Hotel
Starting at $189
Visit the Hotel & Travel page to reserve your room, and for helpful information on getting around in Seattle.
---
Use the Employment Center to Find a Job/Fill an Opening
Registration is now open for the 2012 Employment Center. The Employment Center is an online and on-site resource that provides a great opportunity for highly qualified job seekers and employers to connect while in Seattle at the 2012 Annual Meeting. Employers will enjoy access to numerous individuals with a Master's degree or higher in the fields of agricultural and applied economics. Job seekers will have the opportunity to network with a number of employers while in Seattle.
The Annual Meeting Employment Center is not a job fair. It is an opportunity for employers and applicants to discuss specific open positions. After registering for the Employment Center, applicants will have access to all of the open positions submitted by registered employers, and employers will have access to the employment information of each applicant.
Based on this information, employers and applicants can connect regarding a specific position. Then, they are encouraged to schedule an interview to take place at the on-site Employment Center at the Annual Meeting to discuss the position.
Registration for applicants is $25 until July 25. After that date, registration increases to $30. On-site registration is an option, but waiting until then could limit the number of interviews that an applicant is able to schedule.
Employers will have the option to reserve a table for conducting on-site interviews (for $450), or to use the unreserved tables on a first-come, first-served basis (for $400). After July 26, the rates will increase by $50 for both reserved and unreserved registrations. All employers will have access to the applicant information through the online Employment Center.
---
Deadlines for Meeting Presentations Almost Here
If you had a submission accepted for presentation in Seattle, there are several upcoming deadlines that you'll want to keep in mind. First, all presenters, panelists, and discussants need to be a 2012 AAEA member and registered for the Annual Meeting. Also, all Selected Papers and Posters need to be submitted to AgEcon Search. We have moved the deadline for these requirements back to June 4, for this year. However, that means that as of June 5, if you haven't met these requirements, your submission will be withdrawn.
Presenters
All presenters, speakers, and panelists at the Annual Meeting will need to be a 2012 AAEA member and registered for the meeting by June 4. This requirement is stipulated by the AAEA Executive Board in the AAEA Operating Policies. If you are a presenter and have any questions about this, or are having someone else present in your place, please contact Kristen Wright at kwright@aaea.org.
AgEcon Search
AAEA has a partnership with AgEcon Search allowing content from the Annual Meeting to be posted online for those who are interested in learning more about a presentation at the Annual Meeting. For Selected Papers, a full version of each paper should be uploaded; for Posters, a PDF of the Poster should be uploaded. You can visit the Presenters section to learn more.
---
How to Make the Most of Seattle's Many Free Attractions
In a city with so much to do, it can be hard to get it all in. This is especially true in a place like Seattle, where so many of its great attractions are free. We've put together a list of some of the most popular things to see that won't cost you anything to enjoy.
Seattle Waterfront
Located less than a mile away from the Annual Meeting, the Seattle Waterfront offers you the chance to explore shops, restaurants, and enjoy the culture of the city. It also offers breathtaking views of Puget Sound and the Olympic Mountains.
Olympic Sculpture Park
At the end of the waterfront, you'll find a quiet respite within the city in the Olympic Sculpture Park. Formerly a nine-acre industrial site, the park is now a vibrant green space featuring installations from world-class artists. Visit the park for a chance to unwind and enjoy the (hopefully) nice weather.
Hiram M. Chittenden Locks
Visitors to the Chittenden Locks receive a fascinating "behind-the-scenes" type experience. The Locks connect the saltwater of Puget Sound to the freshwater of Ships Canal, raising ships 20 feet in elevation along the way. The fish ladder and the connected botanical gardens offer a wide range of entertainment for those who make it to this hidden gem.
Pike Place Market
Seattle's Pike Place Market is the granddaddy of farmers' markets. A major tourist attraction, it features 200 businesses operating year-round, 190 craftspeople, and 120 farmer booths—plus street performers and musicians. Flowers by the bucketful, flying fish, fresh pastries and fruit, handmade cheeses, local honey, wine, an assortment of restaurants, import goods, antiques, collectibles and lots of surprises are around every corner!
Kerry Park
Widely agreed upon as the spot offering the best views of the city, Kerry Park is a short 10 minute drive from the Annual Meeting. On a clear day, you'll even be able to see Mt. Rainier!
Discovery Park
Discovery Park offers 534 acres of nature to explore, including hiking, walking trails, bluffs, and beaches. The park is located about 20 minutes from the site of the Annual Meeting and is one of the best ways to relax in the city.