John Beghin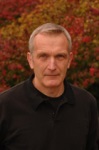 John Beghin is a native of Belgium. John came to the U.S. to study at North Carolina State University (NCSU) where he received a MS in agricultural economics, and then went on to University of California, Berkeley (UC Berkeley) where he received his PhD in 1988, working with Larry Karp. John started his post PhD career at NCSU where he stayed 10 years until summer 1998 while progressing through the ranks to full professor. He then joined Iowa State University (ISU) where he stayed until his retirement in December 2016. He had different responsibilities at ISU, leading the Food and Agricultural Policy Research Institute (FAPRI-ISU) and a division of the Center for Agricultural and Rural Development, and in the Global Food Security Research Consortium. He held one of the two Marlin Cole Professorships in International Agricultural Economics. John rejoined NCSU in January 2017 as professor and head of the department of Agricultural and Resource Economics.
John has also held visiting appointments at the Institut National de la Recherche Agronomique (INRA), the Organization for Economic Co-Operation and Development (OECD), and the University of Sydney, and has been a consultant for the World Bank, the OECD, FAO, USGAO, USACE, and various private clients. John is married to Yalem Teshome and they have a daughter, Ascale Carla, who is also an economist.
John has published in excess of 100 articles and book chapters. His research work has appeared in the American Journal of Agricultural Economics, Canadian Journal of Economics, Ecological Economics, Economic Enquiry, Economics Letters, Environment and Development Economics, European Review of Agricultural Economics, Food Policy, Health Economics, Journal of Comparative Economics, Journal of Development Economics, Land Economics, Oxford Economic papers, Review of Economics and Statistics, World Development, and The World Economy among other journals. He has also edited eight books and special issues for academic journals. His work is widely cited.
Beghin's core research interest and expertise are in the economics of international agriculture and food markets. His contributions can be divided into three major categories: (1) agricultural trade and non-tariff measures; (2) trade and the environment as well as eco-labeling and (3) global food security and food policy. On NTMs, John Beghin has an array of work on these measures and their effect on trade and welfare, including methodological contributions on aggregation of NTMs, and on disentangling supply and demand effects of NTMS in the gravity equation framework. Much of this work was accomplished with Stephan Marette, Anne Celia Disdier, and former students Yuan Li, Bo Xiong and Chengyan Yue. Beghin has also done related work on the structure of trade protection in OECD countries and its impact on developing countries with Ataman Aksoy, and on the political economy of protection with Larry Karp, Mylene Kherallah, and Bill Foster.
John's research on the trade and environment nexus, much of it with Dominique van Der Mensbrugghe and David Roland Holst, provided early recognition of the importance of environmental externalities for trade theory as well as for practical measures of the impacts of environmental policies on indexes of trade restrictiveness.
The third strand in John's research portfolio falls under the rubric of food security and food Policy. John's has not only published research work on it but he has also consistently engaged with policy makers working on food security and food and farm policy design. A series of empirical investigations, especially with the FAPRI group analyzed China's accession to the WTO, the impact of the Uruguay round on world agriculture, the impact of EU enlargement to Eastern European countries, and the impact of the emergence of biofuel markets on global food markets, and food security policies in several countries, with Jean-Christophe Bureau and USDA-ERS economists.