Jill McCluskey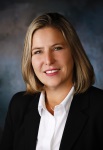 Jill McCluskey's research, teaching, advising, service, and leadership are at the highest level of distinction in the field of agricultural and applied economics. She has provided an extraordinary level of leadership and service to the AAEA, other associations, government, and her university. She has served the AAEA in many capacities, providing strategic input and generating enthusiasm for the association. Her service culminated in her 2015-16 term as AAEA President. She is recognized as an outstanding researcher with more than 100 journal articles, many of which are highly cited with more than 5,000 citations on Google Scholar. She excels in graduate education through her teaching and her graduate student advising. She has served as major advisor to 36 completed PhD students and 21 completed MS students. Her advisees have won national awards for their theses and dissertations, have been placed in tenure-track positions at research universities, and are active in AAEA.
Jill served as AAEA President with objectives that included increasing opportunities for members to engage with each other and with external entities, such as the media, government, and industry. She encouraged members to think strategically about the impact of their research and communicate this conversation outside of their usual circle of researchers. Increasing diversity was a major objective for her. She argued that a more diverse membership generates ideas and innovation, in addition to expanding the membership base. She nominated, encouraged, and supported female and minority members to take leadership positions.
Jill served as AAEA Director during 2005-08, which was a pivotal time as it successfully transitioned to an association management corporation. In 2008, she took the lead in re-designing the old AAEA logo to a more modern version, and together with Richard Just and Scott Irwin, re-designed the AAEA logo to what it is today. She has also served on numerous AAEA committees and in section leadership, including Chair of FAMPS. She initiated the idea of forming the AAEA Econometrics Section and led the original email campaign to recruit the first section members.
Also at the national level, she has chaired S1067, the Regional Research Project on Specialty Crops and Food Systems in 2013-17. She has served the WAEA as Director and VP, and is a member of IATRC, and FDRS. Jill, together with Jo Swinnen and Julian Alston, founded the Beeronomics Society. She has guest edited several journal issues and served on editorial boards, including AJAE and ERAE. She has provided service to the government, including chairing the panel that reviewed the MTIA programs of USDA.
Jill has a long history of service to her university. While still an Assistant Professor, Jill became Chair of Graduate Studies and grew the Ph.D. program at WSU to over 80 Ph.D. students. She currently serves as Associate Director of the School of Econ Sciences at WSU, which includes both Ag Econ and General Econ.
Jill is internationally recognized as a top researcher. Her research focuses on product quality and reputation, sustainable labeling, consumer preferences for new technology, and women in STEM. Her research has been funded by private foundations, NSF, and USDA. She is frequently invited to give keynote and plenary presentations at international conferences. She has published in many highly ranked journals, including in the Review of Economics and Statistics, AJAE, European Rev. of Ag. Econ, JEEM, JAE, JARE, Land Econ., Food Policy, Journal of Applied Econometrics, Energy Economics, and Economic Inquiry. She is ranked in top 5% of female economists and in other categories in RePEc. Her research has been highlighted by various media outlets including the New York Times, National Public Radio, and Newsday.