Alfred Parks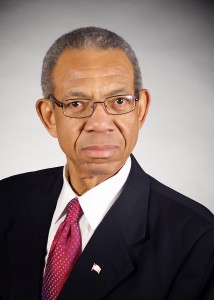 Education and Scholarly Achievement
Alfred L. Parks is a professor of Agricultural Economics and Agribusiness in the Department of Agriculture, Nutrition, and Human Ecology, College of Agriculture and Human Sciences at Prairie View A&M University, Prairie View, Texas. He is also currently serving as the Interim Executive Associate Director of the Cooperative Agricultural Research Center and Interim Director of Farm Operations. He has spent over 40 years in the Texas A&M University System. He is a native of Arkansas where he received a BS degree in Agricultural Economics from the University of Arkansas at Pine Bluff (UAPB). After completing his undergraduate study at the University of Arkansas at Pine Bluff and completed graduate study at the University of Illinois at Urbana-Champaign where he obtained both the Masters and Ph.D degrees in Agricultural Economics with a concentration in Marketing. During his forty plus year career he has been privileged to work at four Higher Education Institutions-Southern University and A&M College of Baton Rouge, Louisiana, The University of Yaounde, Cameroon, West Africa, Texas A&M University, College Station, Texas, and Prairie View A&M University, Prairie View, Texas. Parks has authored/co-authored hundreds of manuscripts, abstracts, book chapters, information briefs, business plans, feasibility studies, and related works with many of them appearing in refereed journals/publications. He has received numerous awards and recognitions for teaching excellence, research accomplishments, academic mentoring, leadership and administration. He was the (2018) Outstanding Faculty Member in the Department of Agriculture, Nutrition and Human Ecology at his University. In 2019 he received the COSBAE Legacy Award for his enduring contributions to the Agricultural Economics and Agribusiness Profession, and in 2021 he received the Fellow of Agricultural and Applied Economics Association Award, class of 2021. He has participated in numerous personal development workshops, conferences, short courses, and classes, all related to technical skills development and leadership.
Administration, Leadership and Management
Parks has enjoyed a stellar career in progressive higher education administration, leadership and management. He served as Department Head of Agricultural Economics at PVAMU from 1977-1987; head of the Department of Agricultural Sciences at PVAMU from 1989-1993, and Associate Dean of the College of Agriculture and Human Sciences and Research Director of the Cooperative Agricultural Research Center at PVAMU from 1994-2009, and most recently, Interim Executive Associate Director of Research 2018-present and Interim Farm Director 2020-present. During his administrative tenure he has been able to accomplish a number of significant achievements in the College of Agriculture. He was responsible for the establishment of a summer apprentice program for high school students entitled the Research Apprentice Program (RAP); he led in the established the World Food Distribution Training Center of Excellence (WFDTC), a certification program whereby students can pursue a certification in World Food Distribution Management; he has played a major role in the establishment of a number of International Memorandum of Understanding (MOU) in a number of countries such as Jamaica, Costa Rica, Mexico, Cameroon, Ethiopia, and Ghana. He played a major role in the establishment of the Ethiopian Sheep and Goat Products Improvement Program (ESGPIP), a multi-year, multi- million dollar program funded by the United States Agency for International Development (USAID) in Ethiopia. Parks has served on many committees, advisory boards and task forces at various levels of local, state, national and international significance. He has served on many University committees, such as the faculty senate, self-study committee, the research advisory committee, faculty governance and research compliance; he has served as an advisory board member for several committees of the Texas Department of Agriculture, such as the Farmer Loan Program, the Organic Standards, and the Small Farmer outreach committee. He has served on many national committees, such as the Association of Public and Land Grant Universities' (APLU) Budget and Advocacy Committee, a major committee that set budgets for the Land-Grant Universities; he has also served a chair of the APLU's Experimental Station Committee on Policy (ESCOP), a national committee that work closely with the Office of Management and Budget (OMB) in setting policies and appropriating funding for the various programs, such as the Farm Bill, NAFTA, and other Bilateral and Unilateral Trade policies. Parks' career continues to emerge even at this stage of his career. As stated earlier, he is serving in two interim leadership capacities where he is focused on building back better the university farm and the various programs and infrastructure that supports it.
Extramural Relationships and International Involvement
Parks has worked and/or traveled professionally in more than twenty five countries during his career. He served for two (2) years at the University of Yaounde, Cameroon, West Africa as a faculty and Team Member on a USAID project designed to developed an Agricultural Economics degree program and research agenda at the University of Yaounde; additionally, while in Cameroon, he worked very closely with the Ministry of Agriculture in developing a long-range agriculture strategic plan. He has maintained contacts with the various USAID missions in Jamaica, Mexico, Cameroon, Mali, Ghana, and Ethiopia. He has also worked on a number of collaborative projects in Costa Rica, Mexico and Jamaica. In each of these countries, Memorandums of Understanding (MOU) were established to provide opportunities for collaborative exchanges. Through these relationships, students from Jamaica and Mexico in particular have been able to come to Prairie View A&M University to complete undergraduate and graduate degrees. Parks confers regularly with various delegations from these countries and often entertain invitations for collaboration. The MOU with Jamaica provided an opportunity to establish a research program to improve meat goat genetics. As stated earlier. Parks played an integral role in the establishment of the ESGPIP in Ethiopia, a very similar, but more extensive program.
Parks continues to be very active both domestically and internationally in issues related to the broader issues of the "Food and Fiber System." He maintains active membership in two international organizations – The International Food and Agribusiness Management Association (IFAMA) and the International Association of Agricultural Economics (IAAE). He continues to teach courses in the Department of Agriculture where he is able to use his wealth of experience that addresses issues regarding food security, food distribution, and food sustainability, with a global perspective. Parks is currently involved in developing a comprehensive research program dealing with issues related to factors affecting the quality of life and well-being-food security, food insecurity and sustainability, food deserts, medical deserts, and rural infrastructure in rural America.