August 2017 Issue 18
AAEA News

President's Column
August 2017

As applied economists, AAEA members aim to pair relevance with rigor. My goal as your new president is for our Association to enable us all to do that even better. I'll use this column to keep you abreast of what's afoot. But please let me and our board of directors know what you see and what you think.

Our annual meeting last month in Chicago reflected the diversity of agricultural and applied economics. Outside the plenary sessions, the five most popular ones covered Big Data, the cult of statistical significance, food labeling, Washington policy update, and crop insurance. We heard plenary speakers on experimental markets for public services (Charles Plott), (dis)honesty in behavioral economics (Dan Ariely), and returns to agricultural research (Julian Alston). Breaking new ground in stylistic diversity, the Beer vs. Wine track session featured presentations via both limericks and song.
Read more>>

---

Call for Nominations:
AAEA President-Elect and Directors

The AAEA Nominating Committee is soliciting nominations from AAEA membership for AAEA President-Elect and two AAEA Directors, all for three year terms beginning July 2018.

Please submit the names and affiliations of nominees to kmcguire@aaea.org. Nominations must be received by October 5, 2017.

---

2018 AAEA Annual Meeting:
Save the Date

The 2018 AAEA Annual Meeting in Washington, D.C., will take place on August 5-7, 2018 at the Washington Marriott Wardman Park.

The Call for Abstract Submissions for the 2018 AAEA Annual Meeting in Washington, D.C. will be due in January, 2018. Keep an eye out for future Exchange issues with more information.

---

AAEA Trust:
Call for Proposals

The AAEA Trust Committee and Executive Board are seeking proposals for programs or projects that:

Support development of graduate students and early career professionals
AND/OR
Deepen participation in AAEA or reach out to new groups
AND/OR
Enhance the AAEA Annual Meeting

Funds donated to the unrestricted and student and early career professional development categories of the AAEA Trust will be used to fund proposals approved by the AAEA Trust Committee and Executive Board. Proposals from AAEA Committees and Sections are encouraged. Please note the Trust does not fund individual research projects, nor does it retroactively fund activities that have already taken place. Please contact Trust Committee Chair Jayson Lusk at jlusk@purdue.edu if you would like to discuss your proposal ideas before submission.
Read more>>

---

AAEA/AARES Heading South Award:
Call for Applications

The Australian Agricultural and Resource Economics Society (AARES) and the Agricultural & Applied Economics Association (AAEA) through the AAEA Trust will jointly offer this travel award to attend the 2018 AARES Conference in Adelaide. It is available to members of AARES or AAEA who resident in North America. Applicants for the award can be a member of either AARES or AAEA but must be a member of AARES to participate in the conference. The objective of the award is to provide the winner with an opportunity for professional and personal development and international professional and cultural exchange. The award will have a value of $3,000 USD to be used to assist the winner's participation in the 2018 AARES Annual Conference to be held in Adelaide, South Australia, from February 6-9, 2018.
Read more>>

---

Obituary

John Bradbury
1935-2017

John N. 'Jack' Bradbury, age 82 of Le Roy, passed away peacefully early Sunday morning (August 20, 2017) at Strong Memorial Hospital, surrounded by his loving family.

Jack was born June 2, 1935 to R. Ellsworth Bradbury and Mildred Vader Bradbury. He is survived by his wife, Lana Longhini Bradbury. Their devoted marriage of 36 years was a testament of their commitment to one another and the loving journey they shared.
Read more>>

---

Other News

The 62nd Australian Agricultural and Resource Economics Society (AARES) Annual Conference 2018

Join us in 2018 for an exciting program of discussion and social events. The annual AARES conference attracts 250 to 300 delegates from around the world in the fields of agricultural, environmental, food, resource and development economics and agribusiness.

The conference offers pre-conference workshops, keynote addresses by distinguished speakers, mini-symposia, selected and contributed paper sessions and a vibrant social program. The call for paper and poster submissions is now open. Registration will open in October 2017. Please visit the conference website for more information on how to submit a paper/poster proposal.
Read more>>

---

2017 FDRS Student Food Marketing Challenge:
Call for Participation

The 2017 Annual Meeting of the Food Distribution Research Society will be held at the Hilton Waikiki Beach Hotel from Friday October 20 – Tuesday October 24. The Student Food Marketing Challenge will be held October 21 and 22.

The competition provides students the opportunity to play the role of consultants for an industry client, as they apply their knowledge of food distribution, marketing, management, economics, and merchandising to a real world problem. A mystery company issues a challenge on the first day of the competition, after which student teams compete to give a bid presentation to the company's executive team in the final round. Details about the company are withheld from all teams until the morning of the contest, however registered teams will receive some guidance on preparation two weeks prior.
Read more>>

---

Call for Proposals:
UCLA Law School Animal Law and Policy Small Grants Program

Thanks to generous funding from Mr. Bob Barker, UCLA Law School is pleased to offer the Animal Law and Policy Small Grants Program ("UCLA ALP Program"). http://law.ucla.edu/centers/social-policy/animal-law-grants-program The UCLA ALP Program exists to encourage new academic empirical research, with the goal of developing better empirical bases from which to understand, evaluate, and pursue animal law reform. Applicants from a variety of academic disciplinary backgrounds, including economics, sociology, demography, social psychology, moral psychology, medicine, plant-based nutritional science, cognitive science, law, public health, and public policy are encouraged to apply.
Read more>>

---

The Journal of Food Products Marketing will launch a new series of special issues exploring Contemporary Topics in Food Marketing. The first special issue will be guest edited by Dr. Brian Roe and Danyi Qi of the Department of Agricultural, Environmental and Development Economics at The Ohio State University on Food Waste: Marketing Strategies.
Read more>>

---

Journal of Natural Resources Policy Research
Call for Papers

Journal of Natural Resources Policy Research addresses a broad range of natural resource fields including water, minerals, energy, fisheries and forestry in a synthesizing fashion, rather than stand-alone specialty areas. It also publishes papers on the natural resource implications of climate change, natural disasters and biodiversity loss, among others.
Read more>>

---

Fulbright U.S. Scholar Program

The 2018-19 Core Fulbright U.S. Scholar Program competition is now open. Opportunities are found in the newly redesigned Catalog of Awards. There are many awards in Environmental Sciences, Biological Sciences, and Chemistry, including:

Mauritius: Renewable Energy and Sustainable Development
Australia: Fulbright Senior Scholar in Resources and Energy (Curtin University)
Canada: Research Chairs in Environment
United Arab Emirates: All Disciplines (Teaching or Teaching/Research)
India: Fulbright-Nehru Academic and Professional Excellence Awards (All Disciplines)
Georgia: Science, Technology and Engineering
Colombia: Fulbright-Universidad Nacional de Colombia Distinguished Chair in Biodiversity and Sustainable Development
---
AAEA is releasing "Members in the News" emails to the membership.
If you find a State, National or International story about an AAEA Member, please send a link of the story to
Allison Scheetz via email, ascheetz@aaea.org or info@aaea.org.
What research and topics are you working on? Want to be an expert source for journalists working on a story? We want to hear from you. Contact Jay Saunders via email, jsaunders@aaea.org.
Communication out to the Public: https://youtu.be/aXke3BHM5qU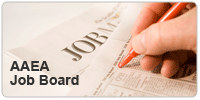 Sign up for listserv emails regarding
new positions HERE.