Obituary
Donald Gregory Stitts
May 30, 1930 - June 2, 2015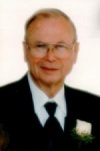 Donald Gregory Stitts, 85, of Mansfield Center, CT, died peacefully surrounded by his loving family on June 2, 2015. He was born May 30, 1930, in Washington, D.C. to parents Ruth (Sexton) and Thomas Stitts, of Hastings, MN. Don graduated from the University of Maine, Orono in 1952, served in the United States Army during the Korean Conflict, worked for H.P. Hood, Ice Cream Division and for Marigold Dairy in Rochester, MN as an Ice Cream Production Manager. In 1962 he returned to school to the University of Minnesota where he earned an M.S. and a PhD in Agricultural Economics. In 1967 he joined the Department of Agricultural Economics at the University of Connecticut (UCONN) as an Assistant Professor. He served as President of the Northeast Agricultural Economics Society, spent over a year as an extension Public Policy Specialist in the Department of Agriculture in Washington, D.C. He retired in 1992 as Professor Emeritus.

Don was active in the St. Thomas Aquinas parish where he was on the parish council for four years; three years as Chairman, and served as a lay distributor for many years. He was a member of The Knights of Columbus, served on the Mansfield Board of Tax Review for 14 years, 12 years as Chairman; 10 years as Financial Officer for the Mansfield Senior Center. He extended his love of teaching by instructing over one hundred classes for AARP safe driving, and many other projects throughout the years.

Don was known and loved for his sense of humor, and was quick to tell the latest jokes. Don was an avid UCONN Women's Basketball fan, having traveled with Barbara to four Final Fours. He enjoyed watching Sunday football and adding his own personal commentary. Goodspeed was also a favorite. Don was active as a member of a bridge club, wine tasting group, a charter member of the St. Thomas Aquinas Knights of Columbus, and Round Table, among others. Don held a lifelong affinity for completing jigsaw puzzles and sharing everything he knew about sports and history.

Don is predeceased by his parents, and his brother, Rev. Thomas Stitts, of New Brighton, MN.

He leaves behind his beloved wife of 57 years, Barbara (Gilmore); their three very dear children; son Donald Gregory Stitts, Jr., and wife, Linda, of Plano, TX; daughter, Kathleen Lagasse and husband, Larry, of Ellington, CT; daughter, Anne Marie Seccareccio and husband, Michael, of South Boston, MA. He also leaves behind 7 precious grandchildren: Sarah Stitts, twins, Ryan and David Stitts, of Plano, TX; Lauren Lagasse and triplets, Connor, Avery and Braeden Lagasse, of Ellington, CT.