Obituary
Daniel Ivan Padberg
(1931-2016)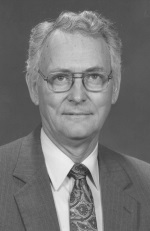 Daniel I. Padberg, Professor Emeritus at Texas A&M University, died December 12, 2016 at age 85, as a result of an automobile accident. He served as President of the Agricultural and Applied Economics Association in 1987-88. He was also the Executive Director of the Food and Agricultural Marketing Consortium, which evolved into the AAEA Food and Agricultural Marketing Policy Section.
Dr. Padberg's distinguished career included serving on the faculty at five Land Grant universities, as Department Head at two, and as Dean at one. He received his undergraduate and master's degrees at the University of Missouri and his Ph.D. in agricultural economics at the University of California–Berkeley in 1961. His initial faculty appointment was at The Ohio State University. In 1965-1966, he served as a member of the staff for the National Commission on Food Marketing, established by the U.S. Congress. The staff studies, an important landmark for the profession, were documented in 10 technical reports. Dr. Padberg co-authored the Food Retailing study.
Dr. Padberg joined the faculty at Cornell University in 1965 as Associate Professor. During this tenure, he was also appointed to the White House Task Force on Farmer Bargaining in 1968. In 1975, he moved to the University of Illinois, where he served as Department Head until 1981 when he was appointed Dean of the College of Food and Natural Resources at the University of Massachusetts. In 1983, he became Research Advisor for Long Range Planning with the Farm Credit System. He served as Professor and Head of the Department of Agricultural Economics at Texas A&M University from 1984 to 1990. Then, he resumed teaching marketing and industrial organization and led in the development of the Food and Agricultural Marketing Consortium. He retired as Professor Emeritus in 1996.
Dr. Padberg was a dynamic department head challenging his faculty and his administrators with new and sometimes controversial ideas that were always presented thoughtfully, in good humor, and with willingness to consider other views. He was an engaging scholar, who stimulated discussion and debate about major food industry issues, authoring four books and numerous articles and reports. He was indeed a lifelong learner with a curiosity for different cultures and eagerness to share research insights with colleagues around the world. He was a visiting professor at the University of Manchester in England, 1972-73, and Fulbright Chair at the University of Tucia, Viterbo, Italy, 1997.
Dr. Padberg was born Nov. 9, 1931, in Summersville, Missouri. He served his country as an officer in the U.S. Navy from 1955-1958, and married Mildred True in 1956. They had three daughters. She died in 1997. Sarah O'Brien, Dr. Padberg's second spouse, was a passenger in the car at the time of the accident and also died as a result of her injuries.
Celebration of Dr. Padberg's life will be held at the Unitarian Universalist Church in New Braunfels, Texas, Jan. 2, 2017. In lieu of flowers, memorials may be sent to the college scholarship fund he set up at the high school he attended: The Padberg Educational Trust, Security Bank of the Ozarks, P.O. Box 8, Summersville, MO 65571.