AAEA News
Early Registration and Presenter Requirement Deadline for Annual Meeting
Register for the 2014 Annual Meeting before the rates increase. The early registration deadline is May 28. Register online or download the PDF form.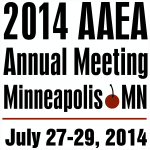 Annual Meeting registrants will receive a name badge, program, and additional registration materials when they arrive in Minneapolis. Attendees will also have access to all of the concurrent sessions, plenary sessions, the Poster Reception and Welcome Reception on Sunday night, and the Closing Reception on Tuesday night. Tickets for luncheons and banquets are not included with the registration cost but can be purchased separately during registration.
Presenter Requirements
All AAEA presenters, speakers, moderators, panelists, and discussants must be 2014 AAEA members and registered for the Annual Meeting by May 28.
If you are presenting a Selected Paper or Selected Poster, you must submit a final PDF version of your paper/poster to AgEcon Search by May 28. More information can be found on the Annual Meeting website.
Choices Distribution
In an effort to provide information in a timelier, user-friendly manner, Choices will now feature a weekly release of articles. The complete themes and issues will continue to be posted on www.choicesmagazine.org.
We would love to hear your feedback! E-mail us at outreach@aaea.org.

Registration Deadline Extended for Social Networks, Social Media and the Economics of Food Symposium
Registration for the Social Networks, Social Media and the Economics of Food Symposium has been extended to Monday, May 19!
The symposium will be held at the Hyatt Regency in Montreal, May 27-29, 2014. Please visit the symposium webpage to register online and to view the agenda.
Mobile App is Back
AAEA is excited to bring back the mobile app for its second year. The mobile app has many great features including:
My Schedule - add sessions and events right onto your personal schedule.
Sessions – browse the entire program by day or by track; add events to your schedule and rate sessions.
Session Participants - view session participants including presenters, moderators, panelists, and more.
Exhibitors – view exhibitor profiles
Maps – navigate your way around the meeting with floor plans highlighting rooms used during the meeting
Social Media – connect via Facebook or LinkedIn. On Twitter, follow @AAEA_Economics and share your meeting experience using #aaea2014.
Friends - meet and connect with other Annual Meeting attendees.
Enhance your Annual Meeting experience by searching for "AAEA2014" in your app store to download the mobile app on your smartphone or tablet!