Council on Food, Agricultural and Resource Economics' DC Update
FY 2015 Senate Appropriations Bills - Commerce, Justice, and Science, and Agriculture
Senate Appropriators have not yet given up on moving the minibus (HR 4660), which incorporates the fiscal 2015 Commerce-Justice-Science (S 2437), Transportation-HUD (S 2438) and Agriculture (S 2389) measures. The spending bills are ready for Senate floor consideration, but are under a tight timetable due to a limited number of legislative days in July. Last week, leaders struggled with gridlock related to attempts to get unanimous consent to combine the multiple measures into one legislative vehicle (minibus). Legislators are trying to avoid a continuing resolution come Oct. 1.
CFTC Authorization Bill
On June 24, Chairman Frank Lucas of Oklahoma celebrated the passage of the Customer Protection and End-User Relief Act of 2014 H.R. 4413 by the U.S. House of Representatives (265-144). The Senate Agriculture Committee will not vote on legislation to reauthorize the Commodity Futures Trading Commission for at least several more weeks, Chairwoman Debbie Stabenow said according to CQ Roll Call.
Congressional Quarterly's Phil Brasher Hosting Webinar on Ag. Appropriations
The Webinar will occur on July 8th @ 1PM. CQ Agriculture Blog Editor Phillip Brasher and reporter Georgina Gustin will be discussing the 2015 appropriations process and how it's playing out for agriculture and food policy. They will discuss the latest on the implementation of the farm bill and the forecast for other hot regulatory issues, including: school nutrition, the Clean Water Act, immigration policy, GMO labeling and regulation, implementation of the Food Safety Modernization Act, poultry inspection, food aid policy, and trade negotiations. Register here.
---
In Other DC News
Sen. Thad Cochran defeated tea party challenger this past Tuesday. Cochran is now the ranking member on the Senate Agriculture Committee, where he has been a passionate defender of nutrition programs and southern agricultural interests. Senator Cochran would take over as chairman of Appropriations should he win re-election and Republicans take control of the Senate in November.
Chairman and CEO of Cargill Inc., Greg Page and others released a new report called 'Risky Business' that highlights the economic impacts of climate change on industry. The report says that 'productivity gains in Northern-tier states from shifting agricultural patterns and crop yields will likely be offset by losses in the Midwest and South.'
The Farm Foundation and the Noble Foundation have just completed the 'Soil Renaissance Strategic Plan' with input from thought leaders working in production agriculture, agribusiness, the academic community, NGOs and government agencies. The Soil Renaissance Strategic Plan outlines goals and work plans in four key areas: Measurement, Economics Research and Education.
---
C-FARE Activities
Intern Summer Briefing/Breakfast Series
C-FARE would like to invite students with an interest in economics who are interning in Washington, DC this summer to participate in our Summer 2014 Intern Briefings which will focus on careers with Capitol Hill, agencies and non-governmental organizations.
These briefings are designed to allow students to hear from professionals who have received a degree in agricultural, natural resources, or applied economics about their career paths and receive insight on potential classes to take, and other details regarding the necessary background to succeed in Washington, DC.
Wednesday, July 16, 2014 - Career Insights from USDA Economists
Monday, July 21, 2014 - Experiences on the Hill
Monday, August 4, 2014 – Field Highlights from Experts in Industry
*Please RSVP if you'd like to attend. Thank you!
Contact info@cfare.org with any questions. Locations TBA.
See more information here.
---
Early Career Leaders Awardees Visited Washington, DC to Learn about Agency Programs and Speak with Congressional Offices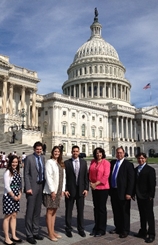 The Council on Food, Agricultural and Resource Economics (C-FARE), with support from the Agricultural & Applied Economics Association (AAEA) Trust was pleased to host Early Career Professionals Leadership Award recipients late last week in Washington, DC. The award recipients participated in a two-day program in Washington, DC, June 19-20, 2014. The program exposed the young leaders to federal agencies and funding opportunities. Awardees also had the opportunity to perform visits with congressional members and staff after participating in a science policy communications training. Congratulations to Drs. David Ortega of Michigan State University; Juan Sesmero from Purdue University; Kelly Grogan from University of Florida; Nathan Hendricks of Kansas State University; Lisa Elliott, South Dakota State University; and Tyler Mark of the University of Kentucky.
"C-FARE provides the award to outstanding professionals who have an interest in communicating the science of agricultural and applied economics. Receiving the award early in their career will allow them to enhance their ability to network and more effectively tailor their research, teaching, and outreach programs to address policy-relevant issues", said C-FARE Vice-Chairwoman, Dr. Mary Ahearn.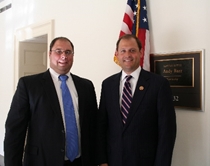 All of the recipients met with congressional staff, and a few with members of Congress. Dr. Tyler Mark had the opportunity to meet Congressman Andy Barr (R KY-6) to describe his work with the agricultural sector related to the renewable fuel standard, as well as his research evaluating telematics and big data. "It was a pleasure meeting Dr. Mark", said Congressman Andy Barr (R KY-6). "The research that the University of Kentucky performs in agricultural economics is a key factor in understanding what risks exist for the adoption of new cropping systems and technologies. I look forward to continue working with Dr. Mark, the University of Kentucky and my Agriculture Coalition to promote Kentucky's signature agriculture industry."
Dr. Lisa Elliott visited with Senator John Thune (R SD).
---
Educational Programming-Past Events
Jon Brandt Public Policy Forum on 'Big Data' Web Archive Available
The Council on Food, Agricultural and Resource Economics (C-FARE) hosted the 1st Annual Jon Brandt Policy Forum – "Increasing U.S. Agriculture's Competitive Edge: How Do Public Data and Big Data Fit?" –in Washington, DC on April 29. The event was covered by agricultural press and non-profit organizations, as well as attended by congressional staff and DC stakeholders.
C-FARE thanks the co-sponsors for their support of the inaugural event:
AAEA Trust; American Farm Bureau Federation; United Soybean Board; USDA Economic Research Service; USDA National Agricultural Statistics Service; USDA Office of the Chief Economist; North Carolina State University In-kind was provided by: Deere & Company; Agri-Pulse Communications, Inc.; Monsanto Company
---
Public Comment Opportunities
C-FARE Public Comment Development for the 2017 Agricultural Census—The National Agricultural Statistics Service is now planning the content for the 2017 Agriculture Census and is accepting input. Any individual or organization may submit suggestions on questionnaire items to add or delete, as well as any other ideas concerning the Census. Comments can be submitted online at www.agcensus.usda.gov/Contact_Us/Census_Program_Input_Form/. Written suggestions may be mailed to: Census Content Team, Room 6451, 1400 Independence Ave, SW, Washington, DC 20250. C-FARE will prepare public comments on behalf of the profession to respond to the solicitation. Please contact C-FARE at info@cfare.org by Wednesday, July 9th if you wish to be part of or nominate an expert to partake in the public comment drafting process. NASS Deadline: Aug. 4, 2014.
---
Research Funding Opportunities
USDA's Economic Research Service Invites Applications for Two Research Centers
Competitive Grant to Establish a USDA Center for Behavioral and Experimental Agri-Environmental Policy Research
ERS invites proposals for a competitive grant to establish and fund a USDA Center for Behavioral and Experimental Agri-Environmental Policy Research that will use behavioral and experimental economics to conduct research on how policies and programs can influence the provision of ecosystem services from agricultural lands. Deadline: July 7, 2014
Competitive Grant to Establish a USDA Center for Behavioral Economics and Healthy Food Choice Research
ERS in partnership with USDA's Food and Nutrition Service is inviting proposals to establish the USDA Center for Behavioral Economics and Healthy Food Choice Research. The USDA Center will apply behavioral economics to food choice behaviors, including consumer, food industry, and retailer behaviors that are relevant to USDA policies, with special attention to the SNAP and WIC programs. Deadline: June 30, 2014
National Science Foundation Economics Program Solicitation
The Economics program supports research designed to improve the understanding of the processes and institutions of the U.S. economy and of the world system of which it is a part. The Economics program welcomes proposals for individual or multi-investigator research projects, doctoral dissertation improvement awards, conferences, workshops, symposia, experimental research, data collection and dissemination, computer equipment and other instrumentation, and research experience for undergraduates. The program places a high priority on interdisciplinary research. Investigators are encouraged to submit proposals of joint interest to the Economics Program and other NSF programs and NSF initiative areas. Find the full announcement here. Full proposal deadline: August 18, 2014
Environmental Protection Agency-National Priorities Program Solicitation
Systems-Based Strategies to Improve The Nation's Ability to Plan And Respond to Water Scarcity and Drought Due to Climate Change The U.S. Environmental Protection Agency (EPA) is seeking applications that use a systems approach to investigate how drought, climate change, and land use practices impact the quality and availability of surface and groundwater sources nationally. EPA is also interested in research that will help communities anticipate, plan and adapt to these new climate scenarios in the future. Significant threats to our resources include increased demand, changing land uses, aging water infrastructure and climate change/ variability. In facing these threats, the SSWR Program focuses on two main areas: ensuring water quality and availability, and promoting a sustainable water infrastructure. Deadline: August 5, 2014. For more information on NCER programs, please sign up for the updates here.
Please send opportunities to highlight to info@cfare.org. Thank you.