June 2016
Agricultural and Applied Economics Priorities and Solutions Project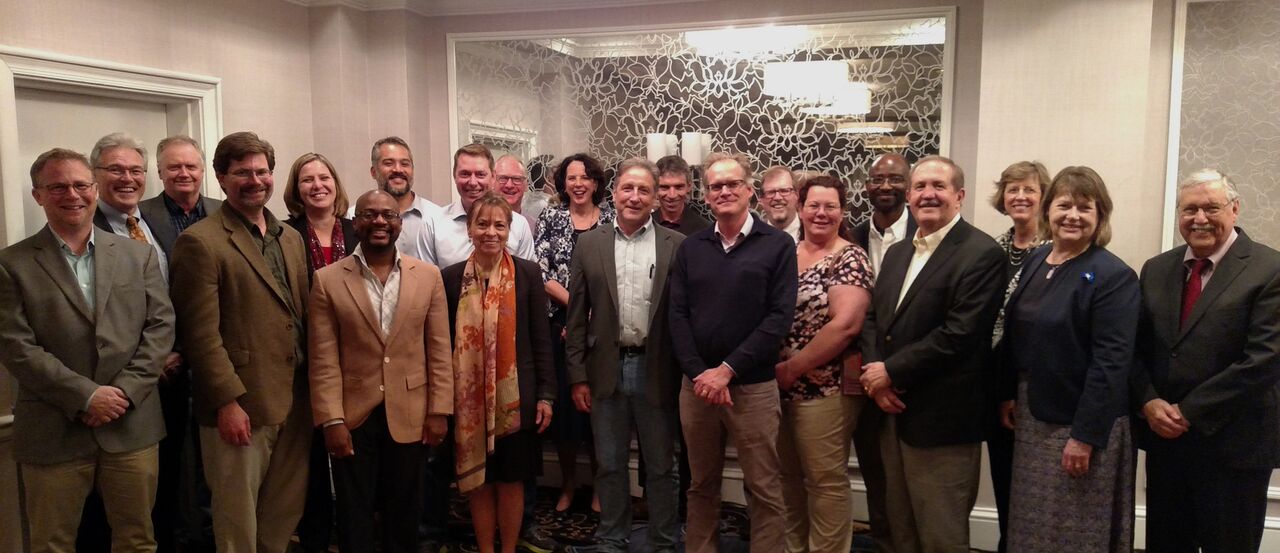 Thank you to those who attended the Priorities and Solutions Workshop on May 2 and 3 in Washington, D.C. The workshop was the centerpiece of a strategic-visioning project that C-FARE facilitated to identify agricultural and applied economics priorities for solving global challenges. The workshop participants from academia, government, NGOs, and industry aimed to inform a consensus product that highlights the most important research questions, resources, educational approaches, and anticipated outcomes needed to address global or 'wicked' problems.
The overall project and the workshop are being facilitated by the Council on Food, Agricultural and Resource Economics (C-FARE). Agricultural & Applied Economics Association (AAEA) is participating as part of its Government Relations Program. The goal is to influence future research and analysis, the dissemination of agricultural and applied economics knowledge, and its incorporation into curricula. The results of this project will be shared at the 2016 AAEA Annual Meetings in Boston, MA at 12 noon ET on Tuesday, August 2, 2016. Please RSVP for that event here. Learn more about the project by going to https://farepriorities.wordpress.com/.
2016 Water for Food Global Conference
The Foundation for Food and Agriculture Research recognizes the critical need to more sustainably manage agricultural water use. FFAR's Executive Director, Sally Rockey along with other experts presented at the Water for Food Conference in late April of this year. Economist, Nick Brozović, Director of Policy of Robert B. Daugherty Water for Food Institute at the University of Nebraska organized the event. After the event, the FFAR hosted an invite-only session on big data to address water for food. AAEA's Government Relations Program had two representatives at the closed session with both Nick Brozović and Jeffrey Peterson, Director of University of Minnesota's Water Resources Center attended.
In April, FFAR, the USDA, the U.S. Water Partnership, and the Robert B. Daugherty Water for Food Institute at the University of Nebraska convened a panel discussion as part of the Water for Food Global Conference in Nebraska. The panel, "Big Data: Partnerships to Leverage Data for Water and Food Security," explored the future of Big Data as it relates to water use and food security. According to a blog that Rockey posted prior to the conference, FFAR is most interested in taking the "first step in unleashing the power of the enormous volume of agricultural water data" by identifying "what is out there". Rockey goes on to say that "Unifying, collecting, and layering on end-user analysis capabilities will be a monumental task for an organization larger than FFAR." C-FARE and AAEA will continue to engage FFAR on the topic of big data to advance opportunities in this arena for agricultural and applied economists.
2016 Jon Brandt Public Policy Forum
On April 27, 2016 C-FARE held our annual Jon Brandt Public Policy Forum. The event highlighted the state-of-the art knowledge of market development, policy, and research innovation investments in international agricultural development. There were 83 registrants and an overwhelming attendance. We hosted the following speakers: Keith Fuglie, USDA Economic Research Service discussing Investing in Innovation to Raise Agricultural Productivity in Developing Countries; Timothy J. Dalton, Kansas State University U.S. Investments in Innovation: What are the Impacts Around the World?; Titus Awokuse, Michigan State University Economic Pathways Out of Food Insecurity: Options for Market and Policy Development; Robert Bertram, Chief Scientist in USAID's Bureau for Food Security USAID Feed the Future Program Markets and Policy Research. The event had over 90 congressional staff in attendance.
---
C-FARE Events in Washington, D.C.
Priorities and Solutions Project - Provocateur Webinars
As part of the agricultural and applied economic priorities and solutions project, we are going to host webinars to encourage greater engagement in the ideas presented at the workshop. Please consider attending to hear more about these innovative and forward-thinking ideas! All webinars will be recorded and made available on the C-FARE YouTube Channel. Sign-up for the webinars on Thursday (Natural Resources and Environmental Policy) and Friday (Rural Community Development and International Economics).
Rural Community Development
Friday, June 3, 2016, at 12 noon ET
Mike Woods, Chair of the Department of Agricultural Economics, Oklahoma State University
The talk will briefly assess contributions made by agricultural economists to enhance the well-being of rural residents through research and outreach. Many models and approaches have been utilized to address issues of economic growth, wealth creation, poverty, and many quality of life factors. Emerging needs related to technology, health care and education will be reviewed. Agricultural economists have much to offer through applied research, extension programming and classroom instruction.
Will Martin, Senior Research Fellow at the International Food Policy Research Institute. Martin is also President of the International Association of Agricultural Economists.
YouTube Video: Agricultural Production and Policy
Keith Coble, A W.L. Giles Distinguished Professor of Agricultural Economics, Mississippi State University
Keith Coble discussed his vision for how our profession can contribute to solving important problems relating to agricultural production and policy questions associated with those problems. He suggested that long-standing risks such as market volatility and weather and climate change will continue to pose new challenges while environmental and resource constraints will grow. However, he noted, the data used to answer important empirical questions appear have changed dramatically. Big data is opening many new doors for research. Ultimately policy makers will still value quality scientific research from objective sources. The challenge is for our profession to provide it, he argues.
YouTube Video: Agribusiness and Food Marketing Systems
James Vercammen, Professor of Food and Resource Economics, University of British Columbia
Academic work in agricultural economics is increasingly driven by the availability of high-quality data sets. While this is good in that important policy questions can be answered more carefully, it does mean, however, that subject areas such as agribusiness and food supply chains that are not well endowed with data are not receiving the research attention they deserve. James argues that graduate students must be shown the value of strong conceptual frameworks, case studies and structural econometric methods of empirical analysis to ensure that they are well equipped to effectively tackle a broad array of topics in their professional careers.
YouTube Video: Consumer and Food Issues
Jayson Lusk, Regents Professor and Willard Sparks Endowed Chair, Oklahoma State University
The presentation will discuss emerging issues and priority areas related to food policy and consumer concerns about the food.
YouTube Video: Natural Resources and Environmental Policy
Madhu Khanna, Professor of Agricultural and Consumer Economics, University of Illinois at Urbana-Champaign
Sustainably growing the food needed to feed nine billion people by mid-century in the face of climate change and growing policy interest in bio-energy is a grand societal challenge. Integrated approaches that link natural systems with human decisions and that improve our understanding of the effects of climate change on human and natural systems and the potential for adaptation are critical to finding innovative solutions. The potential to use big data to improve private and societal decision-making, the challenges of designing effective policies to address the multiple ecosystem services affected by agricultural systems and the importance of understanding the multi-dimensional spillover effects of agricultural, energy and environmental policies will be discussed.
2016 Annual Summer Intern Breakfast Briefing Series – RSVP Today!
The Council on Food, Agricultural and Resource Economics (C-FARE) invites students with an interest in agricultural and applied economics who are interning in Washington, D.C. this summer to participate in our 2016 Summer Intern Breakfast Briefings.
The briefing series focuses on how to navigate careers working for Congress, U.S. agencies, industry, and non-governmental organizations. These briefings are designed to allow students to hear about the careers of professionals who've received a degree in agricultural, natural resources, or applied economics. Participants also receive insights on what it takes to succeed in Washington, D.C.
Wednesday, June 8 - The Economic Experience on the Hill
Monday, June 13 - Field Highlights from Experts in Industry
Tuesday, June 28 - Opportunities in Natural Resource and Environmental Economics
Monday, July 18 - Career Insights from USDA Economists (Tentative)
---
News & Press Releases
---
Request for Applications
This program also strengthens both empirical and theoretical economic analysis as well as the methods for rigorous research on economic behavior. It supports research in almost every area of economics, including econometrics, economic history, environmental economics, finance, industrial organization, international economics, labor economics, macroeconomics, mathematical economics, and public finance.
Deadline: August 18, 2016
Funding: $220,000
Contact: grantsgovsupport@nsf.gov
The AFRI Foundational Program is offered to support grants in the six AFRI priority areas to continue building a foundation of knowledge critical for solving current and future societal challenges. The six priority areas are: Plant Health and Production and Plant Products; Animal Health and Production and Animal Products; Food Safety, Nutrition, and Health; Bioenergy, Natural Resources, and Environment; Agriculture Systems and Technology; and Agriculture Economics and Rural Communities. Single-function Research Projects, multi-function Integrated Projects, and Food and Agricultural Science Enhancement (FASE) Grants are expected to address one of the Program Area Priorities (see Foundational Program RFA for details).
Deadline: August 31, 2016
Funding: $130,000,000
Contact: Effie Baldwin (ebaldwin@nifa.usda.gov)
WEBINAR: AFRI Agricultural Economics and Rural Communities program area (AERC) Request for Applications Webinar on June 7 from 1:00 – 3:00 PM ET.
The session will cover:
A new joint ERS/NIFA program on behavioral economics and agr-environmental policy design
A new proposal review procedure for the Economics, Markets and Trade program.
Within Bioenergy, Natural Resources, and Environment (BNRE) there is a new program titled Socioeconomic Implications and Public Policy Challenges of Bioenergy and Bioproducts Market Development and Expansion.
NIFA staff will provide a brief overview of the AERC and BNRE programs and new features in the webinar. The session will be interactive and we will be able to address your questions online.
Link: http://nifa-connect.nifa.usda.gov/afri-aerc-2016/
Audio conference line: 888-844-9904/ access code 9649398
NIFA will also record the session for those unable to attend. Courtesy of Robbin Shoemaker, USDA-NIFA.
Challenges facing the agricultural sector and rural communities, the production and consumption of food, and management of natural resources and the environment continue to evolve. Increasing global demands for food production in the face of limited resources and changing climate will have major implications for how we use natural resources, engage in healthy diets, invest in science, and foster economic opportunities and quality of life for rural America. Given the opportunities and challenges, the primary goal of the AERC program is to promote economically, socially, and environmentally sustainable agriculture and resilient rural communities.
The AERC Program Area supports rigorous social science research projects, including behavioral and experimental economics research and analysis, that informs decision making and policy design to enhance the sustainability of agricultural production systems, both conventional and organic, and related activities in rural areas, protect the environment, enhance quality of life, and alleviate poverty. Market forces impact the agricultural sector of the economy and require producers to stay on the cutting edge of technology to remain viable. NIFA programs foster innovation and support research that helps farmers and agricultural businesses effectively manage operations.
Topical issues include, but are not limited to, the interactions between agriculture, environment and communities in rural areas; demographic changes and impacts; consumer preferences or behavior; decision-making under uncertainty; crop insurance; availability of credit and financing; market structure and performance; and policy design and impact. The AERC Program Area supports social and behavioral science disciplines. Interdisciplinary efforts involving social and nonsocial science disciplines are also invited.
This program area priority supports research advancing our understanding of cropland, managed forest, and rangeland production systems. Research supported by this priority will address critical or process-limiting dynamics that occur among and within the various management components of the production system.
Deadline: August 17, 2016
Funding: Standard Grants, Strengthening Standard Grants, and New Investigator Grants must not exceed $500,000 total per project (including indirect costs) for project periods of up to 5 years.
Contact: Mathieu Ngouajio (mngouajio@nifa.usda.gov) and Robert Nowierski (rnowierski@nifa.usda.gov)
This AFRI Challenge Area promotes and enhances the scientific discipline of food safety, with an overall aim of protecting consumers from microbial and chemical contaminants that may occur during all stages of the food chain, from production to consumption. The long-term outcome for this program is to reduce foodborne illnesses and deaths by improving the safety of the food supply, which will result in reduced impacts on public health and on our economy.
Deadline: August 3, 2016
Funding: $6,000,000
Contact: Mervalin Morant, PhD (mmorant@nifa.usda.gov)
The goal of this systems-based integrated program is to empower inter-disciplinary teams to develop, refine, and disseminate science-based knowledge about food and agricultural management and production practices that can mitigate or eliminate the threat and risk of antimicrobial resistance.
Deadline: August 3, 2016
Funding: Standard Grants must not exceed $1.2 million total, including indirect costs, for project periods of up to four years.
Contact: Mervalin Morant (mmorant@nifa.usda.gov); Peter Johnson (pjohnson@nifa.usda.gov)
Applications for this program must describe a process for conducting a comprehensive assessment of the AFRI Food Safety Challenge Area, with a focus on describing overall program priorities, investments, and outcomes from Fiscal Years 2010 to 2015.
Deadline: August 3, 2016
Funding: Research grants must not exceed $300,000 total per project, including indirect costs, for a project period of up to one year.
Contact: Jodi Williams (jwilliams@nifa.usda.gov)
The long-term goal of the AFRI Food Security Challenge Area is to sustainably increase agricultural productivity and the availability and accessibility of safe and nutritious food.
Deadline: Thursday, July 7, 2016
Funding: $16,800,000
Contact: Ed Kaleikau (ekaleikau@nifa.usda.gov)
Consistent with the Pollinator Research Action Plan, the overall goal of this Program Area Priority is to foster innovative and environmentally sound solutions to address the problem of declining populations of managed and wild pollinators in the U.S. Specifically, the program will support problem-solving approaches that build on the advances made through foundational research.
Deadline: July 7, 2016
Funding: Standard and FASE Grants must not exceed $1 million total per project (including indirect costs) for project periods of up to three years.
Contact: Mary Purcell-Miramontes (mpurcell@nifa.usda.gov)
The goal of this Program Area Priority is to develop locally adapted crop cultivars and/or animal breeds that contribute to rural economic development and prosperity while enhancing regional and national resilience and food security.
Deadline: July 7, 2016
Funding: Standard and FASE Grants must not exceed $1 million total per project (including indirect costs) for project periods of three years.
Contact: Ed Kaleikau (202) 401-1931, ekaleikau@nifa.usda.gov and Lakshmi Matukumalli (202) 401-1766, lmatukumalli@nifa.usda.gov
This AFRI Challenge Area addresses critical water resources issues such as drought, excess soil moisture, flooding, quality and others in an agricultural context. Funding will be used to develop management practices, technologies, and tools for farmers, ranchers, forest owners and managers, public decision makers, public and private managers, and citizens to improve water resource quantity and quality.
Deadline: Thursday, August 4, 2016
Funding: $10,700,000
Contact: James P. Dobrowolski (jdobrowolski@nifa.usda.gov)
Understanding Decisions and Behaviors Connected with Agriculture and Post-Harvest Processing Industry Water Use (Program Area Priority Code – A8102)
The overall goal of this program is to understand decisions and behaviors of agricultural producers and the crop processing industry connected with water use. To improve water availability and water use through the understanding of human behavior, the potential for technology adoption and improved decision making and give agricultural users, policy and decision makers and purveyors greater capacity to manage water for agriculture, the successful project(s) must focus on significant watershed and /or regional scales with shared water governance, hydrological processes, and meteorological and basin characteristics.
Deadline: August 4, 2016
Funding: Standard Grants must not exceed $500,000 total per project, including indirect costs, for project periods of up to four years.
Contact: James Dobrowolski (jdobrowolski@nifa.usda.gov)
Understanding the Human Health Impacts to Exposure from Nontraditional Water Used in Agriculture (Program Area Priority Code – A8103)
The goal of this program priority area is to fund a portfolio of research that improves our understanding of the human exposure pathways to nontraditional agricultural water and its potential human health risks
Deadline: August 4, 2016
Funding: Standard Grants must not exceed $500,000 total per project, including indirect costs, for project periods of up to four years.
Contact: James Dobrowolski (jdobrowolski@nifa.usda.gov)
This Challenge Area focuses on the societal challenge to end obesity among children, the number one nutrition-related problem in the U.S.This program is designed to achieve the long-term outcome of reducing the prevalence of overweight and obesity among children and adolescents 2-19 years.
Deadline: Thursday, August 4, 2016
Funding: $7,000,000
Contact: Deirdra Chester, PhD, RDN (dnchester@nifa.usda.gov)
Integrated Approaches to Prevent Childhood Obesity (Program Area Code – A2101)
Applicants must address generating new knowledge of the behavioral (not metabolic), social, cultural, and/or environmental factors, including the food and physical activity environment, that influence childhood obesity and use this information to develop and implement effective family, peer, community, early care and education settings, and/or school based interventions for preventing overweight and obesity and promoting healthy behaviors in children and adolescents (ages 2–19 years or any subset of this age range).
Deadline: August 4, 2016
Funding: Standard grants must not exceed $1.0 million per year, including indirect costs, for project periods of up to five years ($5 million total per project).
Contact: Deirdra Chester (dnchester@nifa.usda.gov) and Jane Clary Loveless (jclary@nifa.usda.gov)
Integrated Approaches to Prevent Childhood Obesity (Program Area Code – A2111)
Applicants must address generating new knowledge of the behavioral (not metabolic), social, cultural, and/or environmental factors, including the food and physical activity environment, that influence childhood obesity and use this information to develop and implement effective family, peer, community, early care and education settings, and/or school based interventions for preventing overweight and obesity and promoting healthy behaviors in children and adolescents (ages 2–19 years or any subset of this age range).
Deadline: August 4, 2016
Funding: Standard grants must not exceed $200,000 per year, including indirect costs, for project periods of up to five years ($1 million total per project)
Contact: Deirdra Chester (dnchester@nifa.usda.gov) and Jane Clary Loveless (jclary@nifa.usda.gov)
In the Agriculture and Food Research Initiative Sustainable Bioenergy and Bioproducts (SBEBP) Challenge Area specific program areas are designed to achieve the long term outcome of reducing the national dependence on foreign oil through the development and production of regionally-appropriate sustainable bioenergy systems that materially deliver advanced liquid transportation biofuels, biopower, and bioproducts.
Deadline: September 22, 2016
Funding: $21,000,000
Contact: Fen Hunt (fhunt@nifa.usda.gov)
Coordinated Agricultural Projects (CAP): Development of Regionally-appropriate Biomass Feedstock Systems for Bioenergy, Industrial Chemicals, and Bioproducts (Program Code – A6101)
CAPs focus on the production and delivery of regionally-appropriate sustainable biomass feedstocks. Targeted high-priority are: 1) feedstocks that can be used for the production of alternative jet fuel in supply chain systems that may be linked to conversion facilities in proximity to civilian or military aviation hubs (Oilseed crops are highly encouraged); and 2) perennial feedstocks (herbaceous or woody) that have high potential to enhance water quality of major watersheds.
Deadline: July 14, 2016
Funding: Regional Coordinated Agricultural Project (CAP) Grants must not exceed $3 million per year, including indirect costs, for project periods of up to five years ($15 million total)
Contact: William Goldner (wgoldner@nifa.usda.gov)
Investing in America's Scientific Corps: Preparing a New Generation of Students, Faculty, and Workforce for Emerging Challenges in Bioenergy, Bioproducts, and the Bioeconomy (Program Code – A6131)
The outcome for this priority is to stimulate the K-12, associate, baccalaureate, and master's level education system to produce teachers, students, and workforce that are better prepared and have the tools necessary to advance the future of America's bioenergy, bioproducts, and the bioeconomy; science and math based independent thinkers and researchers; steeped in interdisciplinary coursework capable of identifying solutions to problems and opportunities; and work creatively in diverse teams and present solutions in a clear and concise manner.
Deadline: July 14, 2016
Funding: Standard Grants must not exceed $3 million total, including indirect costs, for project periods of up to four years
Contact: Daniel Cassidy (dcassidy@nifa.usda.gov)
The Participatory Utilization and Resource Efficiency of Water (PURE-Water) is a three-year activity that aims to increase water productivity, efficiency, and quality, as well as foster behavioral change to reduce the rate of groundwater extraction in the Ararat Valley. This goal will be accomplished through an integrated water resource management and governance/civil society approach aimed at policy input, stakeholder engagement, and behavior change fostered through small-scale pilot projects. The approach is based on the premise that the Recipient's direct engagement of governmental and non-governmental actors, as well as community members in addressing water challenges together and finding joint solutions will lead to sustainable water management.
Deadline: July 13, 2016
Funding: $1,050,000
Contact: ayeghiazarian@usaid.gov
The U.S. Geological Survey Southwest Biological Science Center (SBSC) is offering a funding opportunity to provide financial assistance to help build a program to strengthen restoration strategies and outcomes in the southwestern U.S. by providing science and guidance on effective restoration practices to the management community.
Deadline: June 2, 2016
Funding: $152,358
Contact: Faith Graves (fgraves@usgs.gov)
Within the states and territories, the Cooperative Extension System has repeatedly served as the trusted community organization that has helped to enable families, communities, and businesses to successfully prepare for, respond to and cope with disaster losses and critical incidents. Once a disaster has occurred, the local extension outreach includes: 1) Communicating practical science-based risk information, 2) Developing relevant educational experiences and programs, 3) Working with individuals and communities to open new communication channels, and 4) Mitigating losses and facilitating recovery. NIFA intends to fund Special Needs projects to implement applied scientific programs that serve public needs in preparation for, during and after local or regional emergency situations.
Deadline: June 13, 2016
Funding: $462,000
Contact: bsamuel@nifa.usda.gov
USAID Ethiopia seeks Applications focused on four programmatic priorities: (1) on-farm income generating activities (IGAs) and crop and livestock market systems; (2) off-farm IGAs and non-farm enterprise development; (3) non-farm labor and wage employment; as well as (4) collaborative learning for scaling and sustaining gains made in the 3 livelihood, on-farm, off-farm and employment - pathways.
Deadline: July 25, 2016
Funding: $60,000,000
Contact: Caddis@usaid.gov
As part of NSF's Cyberinfrastructure Framework for 21st Century Science and Engineering (CIF21) activity, the Directorate for Social, Behavioral and Economic Sciences (SBE) seeks to develop user-friendly large-scale next-generation data resources and relevant analytic techniques to advance fundamental research in SBE areas of study. Successful proposals will, within the financial resources provided by the award, construct such databases and/or relevant analytic techniques and produce a finished product that will enable new types of data-intensive research. The databases or techniques should have significant impacts, either across multiple fields or within broad disciplinary areas, by enabling new types of data-intensive research in the SBE sciences.
Deadline: February 27, 2017
Funding: $4,500,000
Contact: grantsgovsupport@nsf.gov