Measuring the American Farm Size Distribution: New Evidence of Farm Consolidation
AAEA members release new research in AJAE
Average farm size in the United States has not changed since 1974, even though there is a strong presumption that large farms have become more important over time. The reason is that the number of very small farms has increased, keeping average farm size consistent despite the growth of very large farms.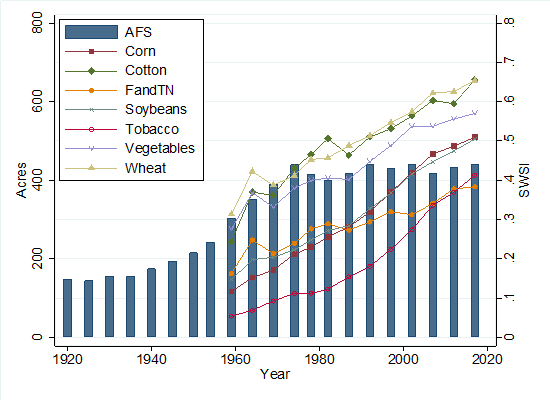 In the new research "Measuring the American Farm Size Distribution" released in AJAE, Katherine Lacy from the University of Nevada, Reno, Peter Orazem and Skyler Schneekloth from Iowa State University, develop a weighted average farm size measure called the Share Weighted Size Index, which shows farm size rises consistently since 1959, as shown in the figure. The measure uses publicly available Agricultural Census Data and can be used to more accurately compare farm size by state and by crop without added cost of data collection.
The authors say, "The results suggest that farm size will be rising in the less densely populated regions of the U.S. while smaller farms will be supported where proximity to urban markets that can provide off-farm work opportunities. Our measure, the SWSI, can be used to provide consistent estimates of relative farm size for the same crop over time and for different crops at one point in time."
If you are interested in setting up an interview, please contact Allison Ware in the AAEA Business Office.
ABOUT AAEA: Established in 1910, the Agricultural & Applied Economics Association (AAEA) is the leading professional association for agricultural and applied economists, with 2,500 members in more than 60 countries. Members of the AAEA work in academic or government institutions as well as in industry and not-for-profit organizations, and engage in a variety of research, teaching, and outreach activities in the areas of agriculture, the environment, food, health, and international development. The AAEA publishes two journals, the American Journal of Agricultural Economics and Applied Economic Perspectives & Policy, as well as the online magazine Choices and the online open access publication series Applied Economics Teaching Resources. To learn more, visit www.aaea.org.
---
Contact: Allison Ware
Senior Communications Manager
(414) 918-3190
Email: aware@aaea.org