Food Insecurity and Time use in Elderly vs. Non-elderly: An Exploratory Analysis
New AAEA member research released in AEPP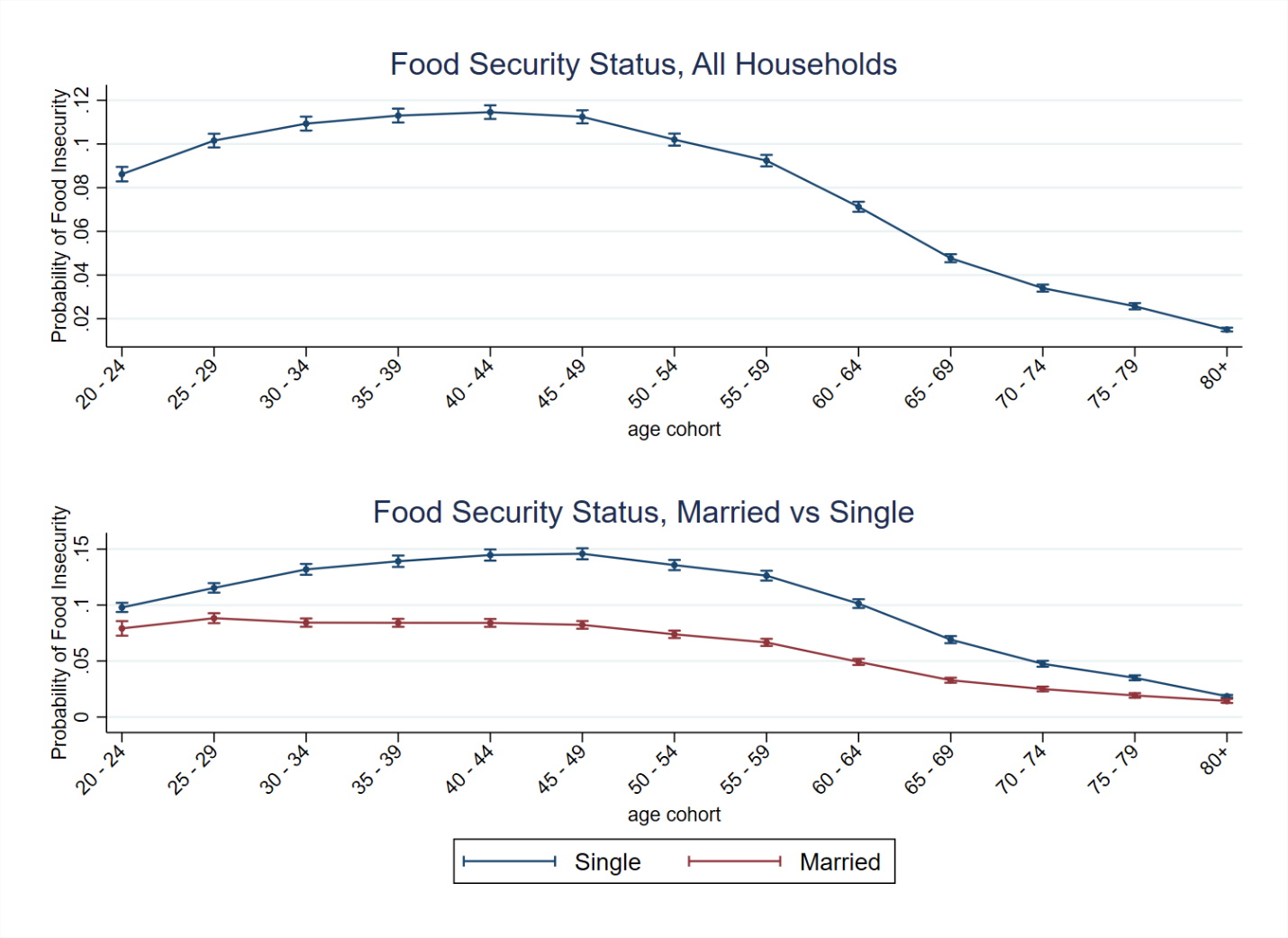 Households have the highest risk of food insecurity even as they are likely to be in the height of their professional careers. Older households exhibit a much lower incidence of food insecurity. The reasons behind this are not immediately apparent. Marriage seems to be associated with some level of protection towards household food insecurity in every age cohort. As households enter retirement they may have more time to prepare meals, which may allow some households to be food secure by purchasing foods that require more prep, but may offer other benefits (e.g., not as expensive).
In the new article in the Applied Economic Perspectives & Policy, "Food Insecurity and Time use in Elderly vs. Non-elderly: An Exploratory Analysis" Joshua Berning, Rebecca Cleary, and Alessandro Bonanno from Colorado State University investigate whether time spent on household food production helps to mitigate household food insecurity, particularly for older households.
Berning says, "The incidence of household food insecurity varies significantly across age cohorts. Households age 40 - 44 are the most food insecure, while households over 80 are the least food insecure. Time spent in meal preparation and eating increase significantly as we go from younger to older age cohorts, whereas we find no meaningful patterns in food shopping time across age cohorts. Investments in time spent on meal prep and eating are related to differences in household food security, but the association is limited relative to other factors. There are significant differences in married and single households both in terms of time use and food insecurity."
If you are interested in setting up an interview, please contact Allison Ware in the AAEA Business Office.
ABOUT AAEA: Established in 1910, the Agricultural & Applied Economics Association (AAEA) is the leading professional association for agricultural and applied economists, with 2,500 members in more than 60 countries. Members of the AAEA work in academic or government institutions as well as in industry and not-for-profit organizations, and engage in a variety of research, teaching, and outreach activities in the areas of agriculture, the environment, food, health, and international development. The AAEA publishes three journals, the Journal of the Agricultural and Applied Economics Association (an open access journal), the American Journal of Agricultural Economics and Applied Economic Perspectives & Policy, as well as the online magazine Choices and the online open access publication series Applied Economics Teaching Resources. To learn more, visit www.aaea.org.
---
Contact: Allison Ware
Senior Communications Manager
(414) 918-3190
Email: aware@aaea.org