COVID-19 and the Agriculture Industry: Labor, Supply Chains, and Consumer Behavior
New theme of articles released in Choices Magazine
It's no secret that producers of toilet paper and PPE had a quick increase in demand in March 2020. But how has the global pandemic afftected the labor markets, supply chains, and overall consumer behavior specifically in the United States?
In the new theme of articles "COVID-19 and the Agriculture Industry: Labor, Supply Chains, and Consumer Behavior," six articles discuss the effects of COVID-19 on labor disruptions, policy changes, H-2A program, transportation and consumer purchasing behavior.
Peña-Lévano, the theme organizer says, "This COVID-19 pandemic has exposed existing weaknesses in the food supply systems such as services, processing and production, which have affected labor, supply systems and consumer behavior. We hope that readers would improve their understanding about the importance of crop workers, including commercial drivers, and that they are the backbone of the agribusiness industry, and key to supply chain resilience and economic recovery during times of crisis. Likewise, this pandemic has highlighted importance of foreign farm workers sourced through the H-2A program. As the farm sector asserts its position as supplier of essential goods during the pandemic, it will need an adequate supply of workers as reliable as its foreign workers in order to survive and thrive. Finally, the pandemic may induce long-lasting effects in the economy accelerating automation of the supply chain and online shopping as an increasing method of purchasing goods."
Articles in this theme: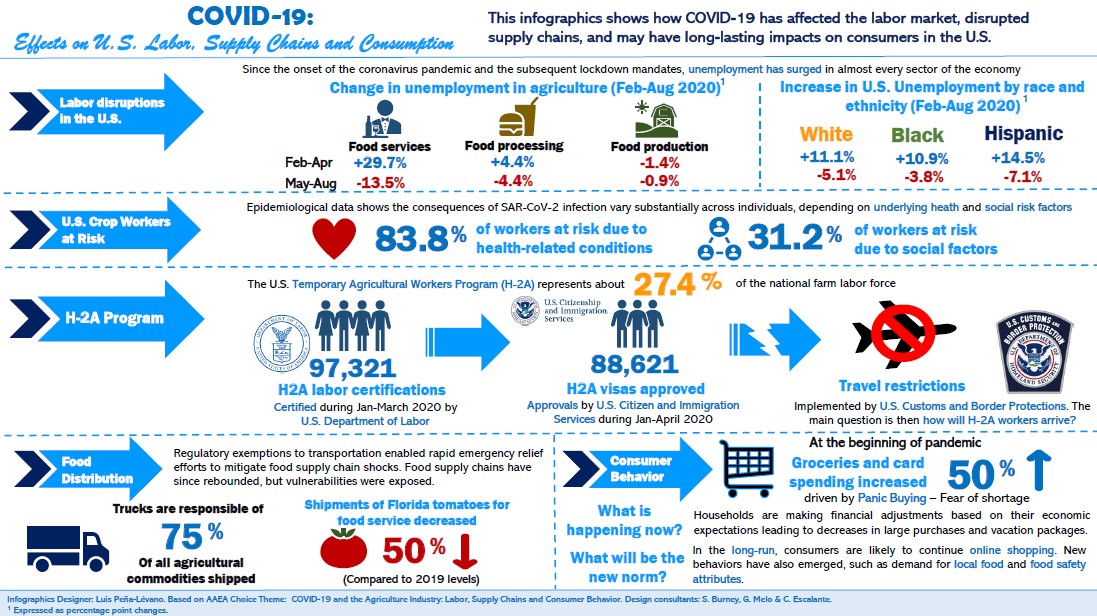 If you are interested in setting up an interview, please contact Allison Scheetz in the AAEA Business Office.
ABOUT AAEA: Established in 1910, the Agricultural & Applied Economics Association (AAEA) is the leading professional association for agricultural and applied economists, with 2,500 members in more than 60 countries. Members of the AAEA work in academic or government institutions as well as in industry and not-for-profit organizations, and engage in a variety of research, teaching, and outreach activities in the areas of agriculture, the environment, food, health, and international development. The AAEA publishes two journals, the American Journal of Agricultural Economics and Applied Economic Perspectives & Policy, as well as the online magazine Choices and the online open access publication series Applied Economics Teaching Resources. To learn more, visit www.aaea.org.
---
Contact: Allison Scheetz
Senior Communications Manager
(414) 918-3190
Email: ascheetz@aaea.org