2019 Developing Multidisciplinary Leaders workshop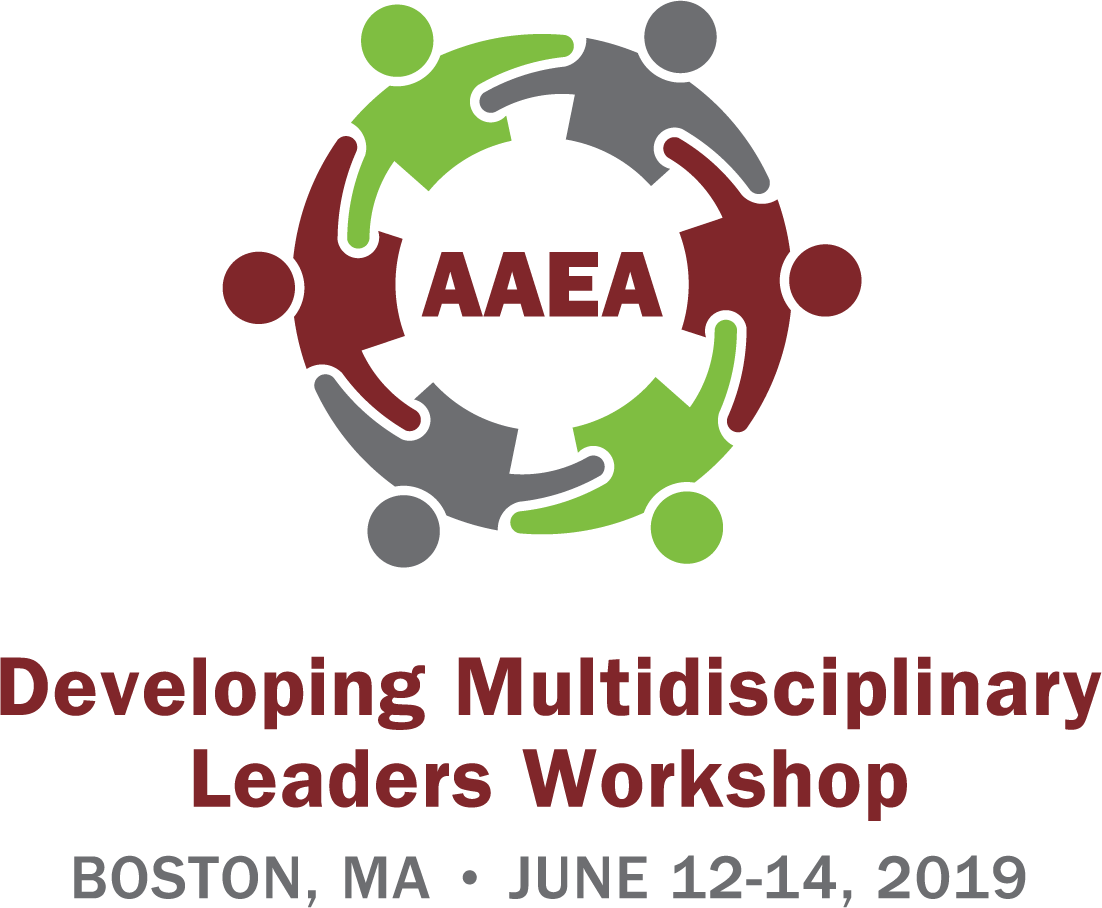 The purpose of the workshop is to help post-tenure or equivalent professionals progress in their careers. The goal of the workshop is to develop multidisciplinary leaders from the AAEA membership who are grounded in applied economics but who are interested in working across disciplines to lead effective teams of scholars. Research and teaching are the core areas of the workshop.
The workshop will bring in panels of applied economists and non-economists, who have worked with applied economists, to explore opportunities and challenges of fostering multidisciplinary teams. One significant topic for discussion is applying for large, multidisciplinary research grants from USDA, NSF, NIH and foundations.
The teaching component will center on developing multidisciplinary, team-taught courses and extension programs. The sessions will cover pedagogy and collaborative aspects of teaching and extension across disciplines. This component will also use active learning to help members develop courses and/or programs.
Mid-Career Mentoring Workshop to be held at the Friedman School of Nutrition Science and Policy at Tufts University.
Targeted Audience
Primary audience is mid-career professionals – both nearly and newly tenured faculty and individuals with other positions are similar experience, e.g., government agencies.
To register for this workshop, complete the Registration Form and return to the AAEA Business Office. Fax to 414-276-3349 or email to mannen@aaea.org. If you have any questions, contact Mary Annen at 414-918-3190.
The Hotel Room Block has been secured at the Double Tree by Hilton Hotel Boston - Downtown. Due to a city-wide event rooms are in short supply and the deadline for our room block is May 16, 2019. The group rate is $276 per night. To book your stay use this link: https://doubletree.hilton.com/en/dt/groups/personalized/B/BOSCODT-AAE-20190612/index.jhtml?WT.mc_id=POG
2019 Developing Multidisciplinary Leaders Workshop Program
Tufts Dental School
1 Kneeland Street
Boston MA
Wednesday, June 12
Tufts Dental Alumni Lounge # 1514
6:00 pm -7:30 pm Reception with heavy hors d'oeuvres
Thursday, June 13
Tufts Dental School Room #1414
08:00 am Registration, Continental Breakfast
09:00 am Welcome and Introductions
09:15 am Crafting and Publishing Multidisciplinary Work: A View from Editors
10:45 am Break
11:15 am Building and Collaborating in Multidisciplinary Research
12:45 pm Lunch
02:30 pm Communicating and Training from Multidisciplinary Collaborations
04:00 pm Adjourn
06:30 pm Dinner/Talk/Presentation
Location: Sackler Room 114 (145 Harrison Ave)
Friday, June 14
Sackler 216A & Sackler 216B (145 Harrison Ave)
08:00 am Continental Breakfast
09:00 am Formulating and Writing Grants with Multidisciplinary Teams
10:30 am Break
11:00 am Reflecting on the Multidisciplinary Enterprise
01:00 pm Boxed Lunch
Confirmed Speakers