Seattle on Demand Issue 2
Changes Are Coming to the AAEA Annual Meeting
Based on some of the feedback we've received, AAEA is making some changes to the Annual Meeting this year. These changes include more food and beverage offerings during the meeting, moving the deadlines for presenters to later in the year, and shortening the AAEA Awards Ceremony.
The number one complaint about the Pittsburgh meeting was the lack of food options either provided by AAEA or available within proximity to the meeting space. In Seattle, AAEA will be providing a continental breakfast on Monday and Tuesday as well as a lunch on Tuesday afternoon. For lunch on Monday, attendees can attend one of the Section Speakers Series Luncheons or visit one of the many food vendors located within the Washington Convention Center during the two hour break. We are confident that attendees will have a much easier time accessing food at this year's meeting!
Another issue attendees have faced in the last few years is the May 1 deadline which required all presenters to register for the meeting, become an AAEA member, and upload their paper or poster to AgEcon Search. Early May is a very busy time for most professionals, so the May 1 deadline was difficult for many to meet. This year, that deadline has been pushed back to June 4. We're hoping the extra four weeks will allow more presenters to meet the requirements without having to be reminded by the AAEA Business Office. Any presenters who are not registered, are not members, and/or have not uploaded their papers on June 4 will be withdrawn from the program on June 5.
Another change to the meeting will be the AAEA Awards Ceremony. With the expansion of the scope of work our members are doing, the number of awards and recognitions have also increased, making the Awards Ceremony quite long. This year, we are breaking up the recognition of AAEA award winners into three parts. The winners of the AAEA Trust awards and grants will be introduced during the Keynote Address on Sunday night. The Fellows will be recognized as part of the Fellows Lecture on Tuesday morning. And the annual AAEA award winners will be recognized during the AAEA Awards Ceremony on Monday night. Our hope is to spend more time recognizing the accomplishments of our colleagues rather than packing all of the awards into one long ceremony. We hope the shortening of the Awards Ceremony on Monday night will also encourage more people to attend.
---
Meeting Schedule Online
Curious about what will be taking place in Seattle at the 2012 Annual Meeting? You can find the meeting schedule online as part of the new 2012 Annual Meeting website. Events taking place as part of the meeting include a number of workshops taking place before and after the meeting, luncheons and banquets featuring invited speakers, and more than 150 sessions.
---
AAEA Continuing the Poster Tours Program
At last year's Annual Meeting, AAEA tried a new approach to presenting some of the Posters as the meeting, including them as part of a new Tour of Selected Posters. These tours proved extremely popular in 2011 and so the AAEA Executive Board has decided to continue them in 2012 and expand the number of posters involved.
Ten tours will take place both on Monday and on Tuesday, highlighting a total of 100 Posters. The most popular subject codes will be used as the basis for each tour, helping to ensure that each tour will focus on a different topic. Posters will be chosen for the tours based on a wide range of criteria, and are not meant to reflect the quality of those chosen.
Tours will feature an author of each Poster presenting their research for ten minutes, followed by a short time for discussion. Each tour will be open to all meeting attendees, and will end with enough time left for you to visit the other Posters in the hall.
---
Travel Grants Available for Graduate Students and Young Professionals
We recognize that it can be tough for graduate students and young professionals to find funding to attend professional meetings, like the AAEA Annual Meeting. To make things easier for you, the AAEA Trust is offering travel funding for graduate students and young professionals to attend the meeting this year in Seattle. Though funding for this grant has decreased for 2012, the AAEA Trust is still able to provide some funds to offset the travel costs associated with being a meeting attendee. You can learn more in the call for applications. The deadline to apply is April 16, 2012.
---
Seattle: A City Built for Exploring
While you're in Seattle, we hope that you find some time to explore the city. Seattle is a great place to spend free time on your own or with your entire family. From food adventures to cultural education, you can find it all in Seattle. We've highlighted some great things for you to do in town.
Pike Place Market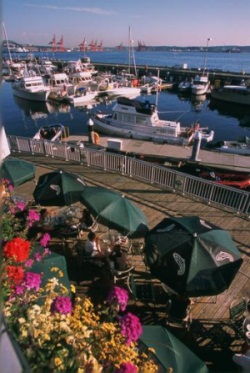 Born in 1907, Seattle Pike Place Market is the granddaddy of farmers' markets. Today, it's a major tourist attraction with 200 businesses operating year-round, 190 craftspeople and 120 farmer booths—plus street performers and musicians. Flowers by the bucketful, flying fish, fresh pastries and fruit, handmade cheeses, local honey, wine, an assortment of restaurants, import goods, antiques, collectibles and lots of surprises are around every corner! Visit www.pikeplacemarket.org to learn more.
Seattle Aquarium
Meet Alki, the sea otter pup born at the Aquarium. Walk under the water in a glass dome as bluntnose sixgill sharks and other Elliott Bay creatures swim all around you. Touch a sea anemone. Learn about the lives of salmon at the world's first aquarium-based salmon ladder. Marvel at the impossibly bright-colored coral reef fish. And don't forget to wave to the giant Pacific octopus. www.seattleaquarium.org
Restuarants and Food Tours
Seattle boasts some of the top restaurants in the country, and there are dozens of great restaurants within walking distance of the Washington Convention Center. A great way to explore the city and sample a wide range of the food options is to take a food tour. These tours "explore the exciting history, culture, and food that makes Seattle a top culinary destination." Learn more by visiting www.savorseattletours.com.