Issue 4, June 2019
With the 2019 AAEA Annual Meeting just a little over six weeks away, there are still a few deadlines to look out for before presentations can begin! This issue we will cover those cut off dates as well as go over what you can do to make the most of your time in Atlanta.
Hotel Information
AAEA has coordinated with the Atlanta Marriott Marquis to secure a room block and a guest rate of $199 per night. In order to receive a room under this rate, you must book before June 19. After that date, the room block will close and you will need to book separately with the hotel.
Please be aware of any scam accounts that may be contacting meeting attendees. To ensure your privacy and accurate booking, please book only directly with the hotel through the AAEA link here. If you have any questions or concerns about booking or the hotel, please feel free to reach out to Mary Annen at mannen@aaea.org or (414) 918-3190.
Advanced Registration Deadline
Shortly following the deadline to book your hotel room with AAEA is the last day for advanced registration. Beginning on July 3, registration prices will increase again and you will have to register onsite in Atlanta. Register here to save yourself time and money. Please note, if you wish to receive a printed copy of the final program, you will need to register before today, June 13, in order for your request to be processed. We encourage everyone to use the mobile app for the most up-to-date information. More information and how to download coming soon!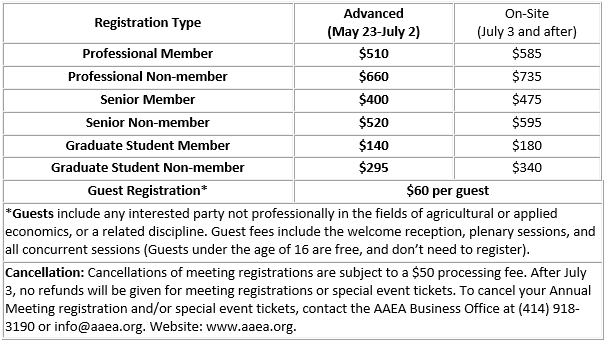 Why Atlanta?
No matter what your interests are – food, fun, history, sports, and more – Atlanta has it all! Looking for a trip to the past? Check out the Jimmy Carter Presidential Library and Museum or the Dr. Martin Luther King Jr. National Historic Park. Bringing the family? Make a stop at the Georgia Aquarium, the largest in the United States! Want to spend some time in the sun? Take a walk through the Centennial Olympic Park where you will see the Fountain of Rings and the 20-story SkyView Ferris Wheel. Watch our promotional video for some inspiration here!
Want more information on what to do in Atlanta? Visit the official Atlanta Tourism page or take a quick look at our Discover Atlanta Flyer. Can't decide what to do? Why choose when you can do it all! AAEA has coordinated for attendees to receive discounts at participating establishments by using the Atlanta Savings Card. Simply print the card and show it to the locations listed, valid from 7/19/2019 - 7/24/2019.
Need some help getting around? AAEA has a list of available public transportation as well as other forms of travel, which include special discounts on air travel and shuttle services.
We look forward to seeing you in Atlanta next month!
---
Questions
Should you have any questions or concerns, please feel free to contact AAEA staff either at info@aaea.org or
(414) 918-3190.
Support Information
Become a Sponsor or Exhibitor for #AAEAATL19 - Learn how