Issue 3, May 2019
Happy spring from AAEA! The 2019 AAEA Annual Meeting is just over 10 weeks away. There are several important deadlines approaching in the upcoming weeks.
In order to participate as a presenter at the annual meeting, the following items must be completed by 11:59 pm CST on Wednesday, May 15, 2019:
Failure to complete these items on time may result in your presentation's withdrawal from the annual meeting. If you know that you are unable to meet these requirements by the deadline, please reach out to the AAEA Business Office as soon as possible at info@aaea.org or (414) 918-3190.
Travel Grants
The AAEA Trust is able to provide a number of travel grant stipends to graduate students and early career professionals. Early Career Professional and Graduate Student (domestic and international) travel grant applications are due May 15, 2019. Additional information can be found on the travel grant page, and applications can be submitted here.
Workshops
There are eight Pre/Post-conference activities to choose from this year, including the return of another Local Brewing Industry Tour. This popular event is expected to sell out, so make sure to sign up early! Even if you have already registered for the meeting, it is not too late to sign up. Descriptions and pricing for these workshops are located on the Pre and Post-conference Workshop page. If you are already registered and would like to add a workshop or luncheon, please contact the AAEA Business Office at info@aaea.org or (414) 918-3190.
Hotel & Registration
AAEA rooms at the Atlanta Marriott Marquis are going fast; in order to secure your room for the meeting, make your reservations here.
There are a number of restaurant and entertainment options within walking distance of the hotel, but if you would like to take time to explore the city there are several different travel choices available. Please see our transportation page for more information.
Below you will find registration rates for the 2019 AAEA Annual Meeting. The earlier you register the more you save! You can register online here and find our PDF registration form here.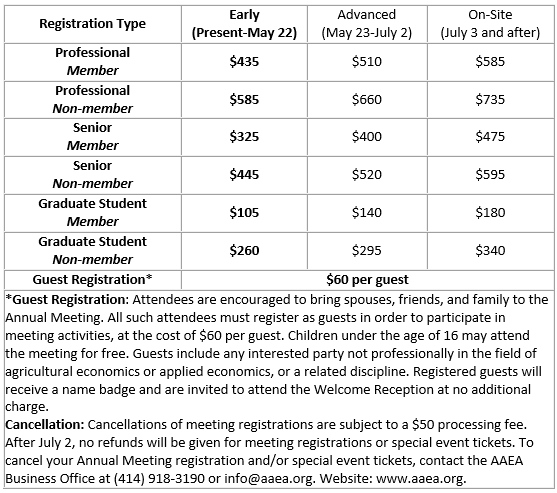 Interested in viewing the current summarized timeline? Visit the 2019 AAEA Annual Meeting page and get started on your personal schedule. The 2019 Annual Meeting app will be available for download shortly before the meeting for further schedule customization – so stay tuned!
Employment Center
We invite and encourage you to register for the 2019 AAEA Annual Meeting Employment Center, taking place July 21-23 in Atlanta, GA. This is a great opportunity for employers to connect with potential candidates.
Employers who register may post open positions on the AAEA Job Board, view resumes of applicants who are participating in the Employment Center, and they may also utilize a table in the Annual Meeting Employment Center to conduct in-person interviews with applicants.
Applicant registration is FREE. Please note: Applicants must be registered for the Annual Meeting in order to participate in the Employment Center.
For more information, please visit the online Employment Center or register here. If you have any questions please feel free to contact Sarah Kenner. We hope to see you in Atlanta!
---
Questions
Should you have any questions or concerns, please feel free to contact AAEA staff either at info@aaea.org or
(414) 918-3190.
Support Information
Become a Sponsor or Exhibitor for #AAEAATL19 - Learn how