Pre and Post Conference Workshops
Saturday, July 26
Pre-Conference Workshops
Applied Computational Economics
8:00 am - 5:00 pm
The ticket price for this workshop is: $55
The workshop will provide an overview of the rapidly developing field of computational economics. The workshop will focus on practical applications of numerical methods to the formulation, solution, and analysis of stochastic dynamic models in economics and finance, with emphasis on nonlinear dynamic optimization models. The workshop is based on the award-winning graduate course currently taught by Dr. Miranda at The Ohio State University and will cover material presented in his textbook with Paul W. Fackler, "Applied Computational Economics and Finance", MIT Press, 2002.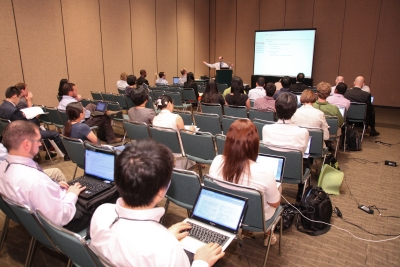 Economics of Pollinator Health
1:00 pm - 5:00 pm
The ticket price for this workshop is: $25
Worldwide, an estimated 35 percent of cultivated crops benefit from insect-assisted pollination and, most often, this service is provided by wild and managed bee colonies. Producers of more than one hundred U.S. crops including fruits, vegetables, grasses, and tree nuts depend on commercial beekeeping operations to provide up to 100 percent of their pollination needs via honey bee hive rentals. In short, honey bees perform an essential service for numerous crop producers, both domestically and around the globe.
Since 2006, when Colony Collapse Disorder (CCD) was linked to a sudden tripling of hive overwinter losses, much attention has been focused on the biological means of improving pollinator health. Recently, economic tools have been used to improve the understanding of trade-offs in management practices and to evaluate relationships between various environmental and management variables and pollinator health. Much work is left to be done; however; our workshop will showcase current economics investigations related to a diverse set of pollinator health topics and provide perspective on the many promising areas of additional research need.
Wednesday, July 30
Post-Conference Workshops
Extension Section Tour
6:00 am - 2:00 pm
The ticket price for this tour is: $80
This year the tour will be a post-conference event on Wednesday, July 30. The tour bus will pick up participants at 7:00 am and travel to Le Sueur and Montgomery, Minnesota to visit Green Giant (owned by General Mills). Guided tours in small groups will be conducted of research and development, operations, and other facilities. Lunch will be provided on the return trip. Estimated arrival time back at the hotel is 2:00 pm. Tour participation will be limited to the first 25 individuals that sign up for the tour.
Role of Agricultural and Applied Economics in Supporting Macroeconomic Literacy
8:30 am - 3:30 pm
This workshop will take place off-site at the Federal Reserve Bank of Minneapolis
The ticket price for this workshop is: $20
The agenda for this workshop is now available.
Macroeconomics is becoming increasingly important to our profession, irrespective of whether you teach in academic or extension programs. If you desire a better understanding of macroeconomics and how to teach it more effectively, join us at the "Bank" on July 30. This post-conference, to be held at the Federal Reserve Bank of Minneapolis, will kick off with an update from the Vice President of the Minneapolis Fed on the monetary tools currently being used to guide economic growth. Then we will learn about the Fed's economic literacy programs and teaching tools. Bring your laptop for hands-on demonstrations of the teaching tools offered by the St. Louis Fed – FRED, GeoFRED, and Econ Lowdown. After a free lunch, thanks to the St. Louis Fed, we will discuss integrating macroeconomics into the agricultural and applied economics curricula. The conference will conclude with a panel discussion about developing and using effective techniques for teaching macro. Our goal is to help prepare you to more effectively incorporate macroeconomics into your classrooms and your extension programs.