AAEA News
Mobilize Your 2014 Annual Meeting Experience
AAEA is excited to bring back the mobile app for its second year. The mobile app has many great features including:
My Schedule - add sessions and events right onto your personal schedule.
Sessions – browse the entire program by day or by track; add events to your schedule and rate sessions.
Session Participants - view session participants including presenters, moderators, panelists, and more.
Exhibitors – view exhibitor profiles
Maps – navigate your way around the meeting with floor plans highlighting rooms used during the meeting
Social Media – connect via Facebook or LinkedIn. Also on Twitter, follow @AAEA_Economics to share your meeting experience using #aaea2014.
Friends - meet and connect with other Annual Meeting attendees.
Enhance your Annual Meeting experience by searching for "AAEA2014" in your app store to download the mobile app on your smartphone or tablet!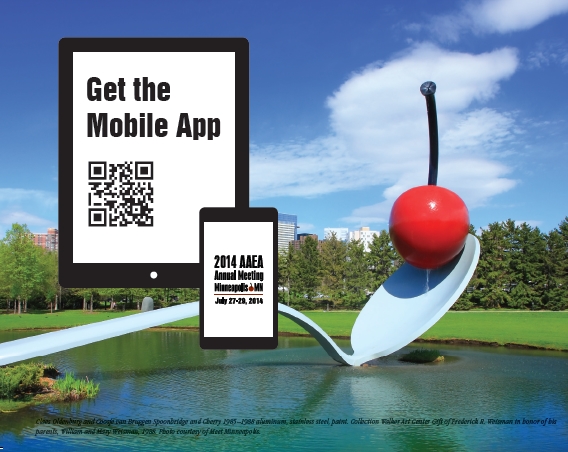 Cast Your Vote!
Elections for the AAEA Executive Board
The ballots for the 2014 AAEA Executive Board election are now available. Take the time to make your voice heard. The election is open from April 15 through May 15, 2014.
All current AAEA members as of May 5, 2014, are eligible to vote. To place your vote, log in to the My Account section of the AAEA website. Once logged in, you will see the candidate information and a link to access the ballot. If you are having difficulty accessing the ballot, please contact AAEA Membership Manager, Sarah Kenner (skenner@aaea.org).
Section Elections
Elections for Section leadership positions will take place concurrently with the Executive Board election. Once you have submitted your Executive Board ballot, you will be directed to ballots for the Section elections that you are eligible to vote in. Only current members of each Section are eligible to vote in that Section's election. Section elections will also close on May 15, 2014.
Click the candidate's name below to view their election statements.
Candidates for President-Elect
Bruce Babcock, Iowa State University
Jill McCluskey, Washington State University

Candidates for Director
Lilyan Fulginiti, University of Nebraska
David Just, Cornell University
William Masters, Tufts University
Hong (Holly) Wang, Purdue University
Registration Deadline Approaching for the Social Networks, Social Media and the Economics of Food Symposium
Registration
The symposium will be held in Montreal, Canada on May 29-30, 2014. Registration for the Joint Symposium is open until May 15. Click here to register online or complete a PDF form and return to the AAEA business office by fax: (414) 276-3349 or e-mail info@aaea.org. If you have any questions regarding registration, please contact info@aaea.org.
Registration Fee:
$285 (USD)
Once you register for the Social Networks, Social Media and the Economics of Food Symposium, follow
AAEA on Twitter @AAEA_Economics and use #EconFood14 to stay up-to-date on the latest symposium news! View the full symposium agenda here.
For more information please visit: http://www.aaea.org/meetings/2014-aaeaeaaecaes-joint-symposium
Questions? Contact the organizing committee at social.food.econ@gmail.com or the AAEA Business Office at info@aaea.org.
Early Registration and Presenter Requirement Deadline for Annual Meeting
Register for the 2014 Annual Meeting before the rates increase. The early registration deadline is May 28. Register online or download the PDF form.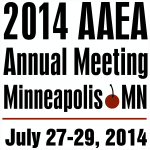 Annual Meeting registrants will receive a name badge, program, and additional registration materials when they arrive in Minneapolis. Attendees will also have access to all of the concurrent sessions, plenary sessions, the Poster Reception and Welcome Reception on Sunday night, and the Closing Reception on Tuesday night. Tickets for luncheons and banquets are not included with the registration cost but can be purchased separately during registration.
Presenter Requirements
All AAEA presenters, speakers, moderators, panelists, and discussants must be 2014 AAEA members and registered for the Annual Meeting by May 28.
If you are presenting a Selected Paper or Selected Poster, you must submit a final PDF version of your paper/poster to AgEcon Search by May 28. More information can be found on the Annual Meeting website.
C-FARE
Jon Brandt Public Policy Forum on 'Big Data'
The Council on Food, Agricultural and Resource Economics (C-FARE) and AAEA hosted the 1st Annual Jon Brandt Policy Forum – "The Critical Role of Data in Increasing the United States' Competitive Edge" – on Tuesday, April 29, 2014 at Senate Office Building in Washington, DC. The forum was broadcasted live online. A recording of the webcast will be available soon.
JB Penn, Chief Economist at Deere & Company and At-Large Member of the C-FARE Board of Directors provided the keynote address, discussing the situation, policy environment and road ahead. A panel of experts was moderated by Sara Wyant, the President of Agri-Pulse Communications, Inc. The panel included:
Mary Bohman- Administrator, USDA Economic Research Service
Bob Young- Chief Economist & Deputy Executive Director, Public Policy, American Farm Bureau Federation
Mark Harris- Chair, Agricultural Statistics Board, USDA National Agricultural Statistics Service
Ted Crosbie- Distinguished Science Fellow, Monsanto
Barry Goodwin- Distinguished Professor, North Carolina State University, Ag. and Resource Economics
2014 Spring C-FARE Board Meeting
The C-FARE Board of Directors met on April 28-30 to develop branding, programming, and fundraising initiatives for the next year.
Call for Applications-C-FARE/AAEA Early Career Professionals Leadership Award
The Council on Food, Agricultural and Resource Economics (C-FARE), with support from the
Agricultural & Applied Economics Association (AAEA) Trust, invite Early Career Professionals Leadership Award applications from young and beginning members of the agricultural and applied economics profession.
The six final award recipients will participate in a two-day program in Washington, DC from June 19-20, 2014. The program will expose the young leaders to federal funding opportunities and train them to be exceptional science policy communicators. This award represents an excellent opportunity for AAEA members to enhance their careers through networking and outreach. Awardees will be selected based on professional merit, guarantee of matching funds, and anticipated use of event information and training. Applicants must be an Early Career Professional member of AAEA.
Please visit the page here for more information and directions on how to apply. Deadline: Nomination packets should be submitted electronically in a single PDF to C-FARE at info@cfare.org by May 5, 2014. A response will be sent to all applicants by May 12.
*Please note, this award is different from the NAAEA award due at the end of this week.
C-FARE is a non-profit organization dedicated to strengthening the national presence of the agricultural economics profession. C-FARE's governing board includes prominent agricultural economists representing a wide range of public and private sector interests.
900 Second Street, NE Suite 205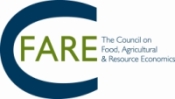 Washington, DC 20002
www.cfare.org
Follow C-FARE on Facebook and Twitter!